"Don't Ever Let Anybody Tell You You Can't Do Something"
July 1st, 2019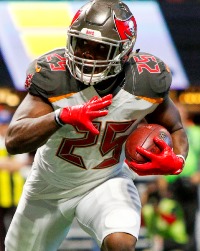 Consider the Bucs sold on Peyton Barber, the guy who cranked out the 19th-most rushing yards in the NFL last year.
What a story Barber is. He joined Tampa as an undrafted player in 2016, learning under greats like washed up Doug Martin, one-year-wonder Charles Sims and Jacquizz Rodgers. The latter two are in their 20s but out of football.
Also out of football is Tim Spencer, the only NFL running backs coach Barber has known. Perhaps that's by choice, but Joe suspects it's not.
Barber left Auburn University early to help his family financially while many thought his NFL career would benefit from an additional college season. Barber, 25, lost his initial gamble but won the grind and is now in a contract year for a team that probably doesn't have another decent running back.
Soft-spoken Barber is an inspirational figure, as outlined in the WFLA video below.
Joe wouldn't bet against him having a solid year. But Joe also wouldn't bet on him being much more than a slightly below average starting running back.
But as Barber might tell Joe, "Don't ever let anybody tell you you can't do something."