Cowboys Cornerback Details "Cheating" On Mike Evans
July 7th, 2019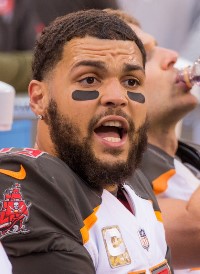 Joe sure hopes the important people at One Buc Palace take note of this video and send it to the proper authorities at NFL headquarters.
Figuring out how to officiate pass interference is a big deal in league circles, allegedly, with rule changes and modifications taking center stage after the debacle in the playoffs with the Rams and Saints.
Even before that notorious play in January, NFL fans knew the policing of pass interference is a mess. But it sure is rare — and educational — to hear a Pro Bowl cornerback detail how he cheats.
Cowboys CB Byron Jones sat down recently for the Cowboys' official Tale of the Tape series and broke down film of how he covers Mike Evans, and an ugly truth came out.
"So when a receiver re-routes himself like [Mike Evans did], no hands are involved, because when I get hands on him I want to re-route him; he just re-routed himself," Jones explains. "So in this case I want to stay on top of [Evans]. I don't want to make it a foot race. So I'll wait. I'll be patient to get hands on him a little later by cheating a little bit. But, the refs don't call it typically, so I'll give him a little jab toward the top of the route, which kinds of puts me in position and kind of takes him out of position."
As highlighted via the film look below, the Bucs snapped the ball on the Cowboys' 34 yard line, and Jones put his hands on Evans at the 28 yard line. The Jameis Winston pass was targeted to Evans but was incomplete.
So here's a stud cornerback calmly telling the world in great detail how he cheats against receivers. What will the NFL do?