Contract Clock Ticking On Devin White
July 19th, 2019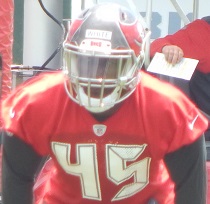 The anointed savior of the Bucs defense, rookie linebacker Devin White, has not signed his first NFL rookie contract.
And if he doesn't sign it soon, he will miss valuable practice time and learning time.
White and all Bucs rookies are set to report to work on Sunday. The No. 5 overall pick is one of five unsigned rookies and, unfortunately, guys inking deals after camp starts has become a returning trend in the NFL.
ProFootballTalk.com noted New York Jets rookies report today and Quinnen Williams is unlikely to be there, as he also hasn't gotten a contract done.
Agents for rookies aren't usually haggling over cash; that's set by the labor agreement. They're nitpicking over contract language, usually "offset" terms. Essentially, "offset" is how much the team must pay when they cut a player before the end of his deal and if he's picked up by another team.
Joe won't cry if White reports a week late, but it's a little unsettling for a team that's counting on him so much — and a team that absolutely must win on opening day.