Bucs Sign A Jumbo-Sized Tackle
July 31st, 2019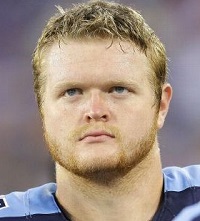 Our beloved Buccaneers made bottom-of-the-roster moves today and pounced on 27-year-old offensive tackle Will Poehls.
Poehls checks in at a whopping 6-8, 344 pounds. He was undrafted in 2014 and recently was cut by the Colts. He's bounced around with the Titans, Bears, Bills and Jaguars.
Per NFL.com., Poehls is the Ryan Griffin of tackles, meaning he's never played in a regular-season game.
This only intrigues Joe because the signing comes after Caleb Benenoch hasn't looked very good at tackle in practice, and Donovan Smith has a some sort of minor Achilles injury, per Bruce Arians.
No, Joe doesn't expect Poehls to blossom into a starter, but Joe does suspect the Bucs are starting to think a little harder about their tackle depth.
This guy Poehl has hung around the NFL for a reason. Perhaps he's a late bloomer.