The "Volume" Hurdle
July 17th, 2019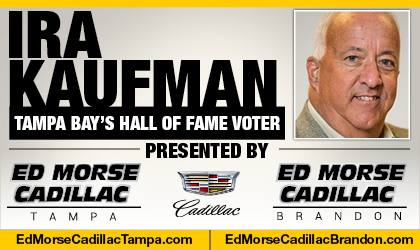 BY IRA KAUFMAN
He's close. He's right there.
With a little work on his composure and a little help from a new coaching staff, Mike Evans has every chance to end the 2019 season as the most highly-regarded wide receiver in the league.
As good as he's been, and he's been very good, Evans still has a way to go when it comes to national reputation. When NFL Network released its annual Top 100 list last summer, Evans was nowhere to be found among the 14 receivers cited.
When the CBS Sports staff announced its Top 100 a few days ago, Evans came in at No. 61 overall. He's better than that, and now he has to prove it.
Let's get this stated up front — Evans is the best player on the Bucs and with all due respect to Lavonte David, it's not even close. He ranked third in the NFL last season with 1,524 receiving yards and registered eight 100-yard games, despite a revolving door at quarterback and a plodding running attack.
Evans' average of 17.7 yards per catch ranked No. 1 for players with more than 41 receptions. Still, there's room to grow.
Through Tampa Bay's first 14 games, Evans had only 5 TD catches. He reached the end zone three times in the final two weeks, but he's got to be utilized more in the red zone. He's too big, too strong and too smart for corners to handle on fades into the corner. Even if the pass falls incomplete, there's a good chance for an interference call.
"When Mike practices and he's feeling good, he's a handful," said former Bucs offensive coordinator Todd Monken.
Coaching Challenge
Now it's up to Byron Leftwich and Bruce Arians to figure out a way to direct more footballs to Evans.
Volume … that's the only thing keeping Evans from being considered with Julio Jones, Antonio Brown and DeAndre Hopkins at the top rungs of the wide receiver food chain.
Consider that Evans hasn't turned in a 100-catch season during his five years in Tampa. Why? The Bucs don't throw enough passes in his direction.
Consider this: In 77 games over the past five years, Evans has been targeted 717 times. In the same amount of games since 2014, Jones has had 813 footballs sent his way. In his past 76 games, Brown was targeted 859 times.
Despite that disparity, Evans has been a first-down machine as a pro. Last year, 69 of his 86 catches moved the sticks, an 80.2 percent clip that ranked No. 1 among players with 60 receptions or more.
How can Evans take that final step? Mental toughness.
Mountain Top
Physical corners have gotten into his head on occasion. In 2017, Minnesota's Xavier Rhodes and Saints rookie Marshon Lattimore frustrated Evans with tight, aggressive coverage. Evans lost his cool, but let's not forget these are two of the best defensive backs in the league.
Last season, in Carolina's 42-28 victory at Charlotte, James Bradberry shadowed Evans and held him to one catch for 16 yards, despite 10 targets.
"It's Mike Evans, he's a top receiver in this league," Bradberry said after the game. "I'm just sending a message out to the rest of the receivers that I'm pretty good myself. I knew I had to get my hands on him first, before he got his hands on me."
Evans was flagged for three offensive pass interference penalties last fall, but that's no big deal. Playing physical is a key part of his game. What he has to realize is opposing corners are going to employ aggressive tactics against him.
There's no reason to think Evans is going to take a step back in 2019.
Adam Humphries and DeSean Jackson have departed, but the Bucs retain plenty of firepower for Jameis Winston.
"We have a lot of playmakers," Evans says, "and we're going to be one of the best receiving groups in the league again."
It's not far-fetched to think Evans will stand at the top of the wide receiver mountain by the end of the year. It's been awhile since the Bucs could credibly boast the NFL's premier player at his position. You'd have to go back to Derrick Brooks at his peak, circa 2002.
That was a pretty satisfying season for Buc fans. If Evans has his way, 2019 won't be too shabby, either.