The Red Zone Revisited
July 10th, 2019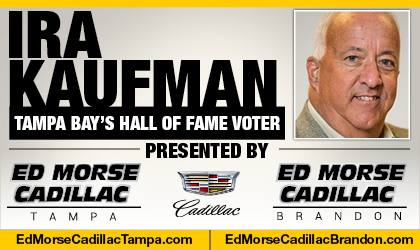 BY IRA KAUFMAN
Let's talk about The Forbidden City. Let's talk about the place Buccaneer drives go to die.
Let's talk about the red zone.
Can you blame Tampa Bay supporters for singing the blues when the field turns red? The Bucs simply haven't cashed in nearly enough downfield, contributing significantly to consecutive 5-11 finishes.
Blame the merry-go-round at kicker, blame end-zone drops, blame pre-snap penalties, errant passes or a listless ground game — they're all culprits. That's how you go from a dynamic offense between the 20s to an inefficient group when the goal-line beckons.
That's how you go from third in total offense to 12th in scoring offense.
The 2018 Bucs entered the red zone 60 times, which is a good, solid number. Only the Rams, Chiefs, Saints and Colts had more opportunities.
That's the good news.
The flip side is Tampa scored only 36 touchdowns in the red zone, a 60 percent success rate that ranked 14th. The Browns, with a rookie quarterback, cashed in at a higher number and so did the lowly Cardinals, who had the No. 1 pick in the draft for a reason.
They sucked.
The Monken Classic
Adding to the misery, the Bucs came away from the red zone completely empty 11 times last season. Only the Panthers, who squandered 12 of their 58 red-zone trips, were less opportunistic.
With all of the weapons surrounding Jameis Winston and Ryan Fitzpatrick last year, those numbers are pathetic.
Despite the departure of Adam Humphries, Winston still has outstanding targets this fall. Chris Godwin excels at catches in traffic while O.J. Howard and Cameron Brate form the best tight end tandem in the league.
In theory, Mike Evans should be a red-zone terror. He's got the size and experience to box out smaller defenders, but the Bucs have been inexplicably reluctant to use him on fade passes.
That could change with the arrival of a new coaching staff.
Bruce Arians has never had targets like these at his disposal. When Arians arrived in Arizona in 2013, the Cardinals boasted future Hall of Famer Larry Fitzgerald, but there was a major drop off to Michael Floyd, Andre Roberts, Rob Housler and Jim Dray.
Tampa Bay's red-zone woes didn't materialize suddenly last year. The Bucs ranked 24th in TD efficiency in 2017 with a 49 percent rate, prompting former offensive coordinator Todd Monken to issue his classic explanation.
"We absolutely chose to suck," said Monken, now running Cleveland's attack. "We made that decision as an offense to play poorly — and we did."
The Flip Side
What can change this season?
A more physical running game would help immensely. The Bucs scored only 11 rushing touchdowns last fall, which was 15 fewer than the NFC South champion Saints. When the field constricts, it's imperative that you can impose your will up front and score on the ground.
We haven't talked about red-zone defense because that's a story for another day … a horror story.
Suffice it to say the Bucs ranked dead last there, allowing 77.6 percent of opposition drives to end with touchdowns. Only 3 times in 58 trips did Buc opponents come away without any points.
Here's some perspective: Philadelphia allowed two less trips into the red zone and yielded 20 fewer touchdowns than Tampa Bay's defense.
Fixing red-zone issues was a major off-season priority a year ago, but this problem hasn't gone away. Converting all those yards into more points is the goal because in the NFL, seeing red is supposed to be a good thing.