Rojo "Was Curious If He Was Going To Maintain All Of His Speed"
July 25th, 2019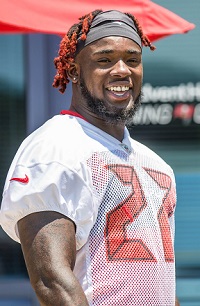 It's a three-man team on the Buccaneers preseason broadcasts on WFLA-TV, Ronde Barber, Chris Myers and Dangerous Dan Lucas.
Lucas is the chief sports anchor on Ch. 8, the guy who sits down with the Buccaneers head coaches at One Buc Palace the Monday following each game.
Lucas strayed from the video side of things today and jumped on the WDAE-AM airwaves to talk Bucs. He's "concerned" about the Bucs run game and is putting a target on the back of Peyton Barber, meaning that's the guy Lucas will have has eyes on during the dog days of training camp.
Chris Godwin? Lucas suggested the Bucs' 2017 third-round pick could land on the side of the stadium when the new faces on the facade appear later this summer. Lucas also quipped that the Bucs could pick as many as four coaches for fans to look at as they drive down Dale Mabry Highway.
It's a pure judgment year for America's Quarterback, Jameis Winston, says Lucas, who will be dialed in to Jameis' decision-making.
A recent interview with Ronald Jones left Lucas feeling like RoJo "had a new lease on life." Interestingly, Lucas said RoJo "was curious if he was going to maintain all of his speed" with the weight he has added. But Lucas was rather upbeat about a RoJo improvement noting that he has a track-training background.
With a nod to the suffering of Bucs fans, Lucas said fans have "earned the right to shake your head and say, 'I'll believe it when I see it'" when it comes to the kicking woes. "You've had the league laughing at us," he said.
Lucas also called Vernon Hargreaves "a smart kid" and believes he's primed for a bounce back under the new coaching staff.
Good stuff from Lucas. Joe was intrigued to hear that the new beefed up Rojo himself, who has added about 15 pounds, is unsure of the effects on his speed. Joe's not sure what to make of that. Thankfully, the preseason kicks off in 15 short days.