Bellying Up To A Raised Bar
July 22nd, 2019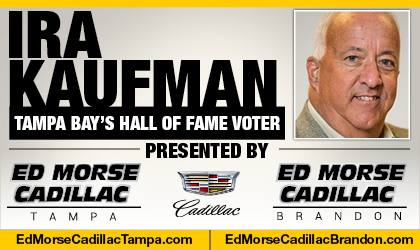 BY IRA KAUFMAN
For Bruce Arians, judgment day is here.
In this case, judgment day lasts five months. The new coach of the Buccaneers has the next five months to validate the faith of a battered fan base by meeting lofty expectations.
Arians set a high bar himself during his introductory address at One Buc Place, when he declared this reclamation project far less challenging than the turnaround he engineered in the desert six years ago.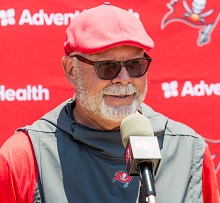 For Arians, no less than his legacy is at stake.
He's a two-time winner as NFL Coach of the Year, but the Cardinals were only 15-16-1 in his final two seasons on the sidelines before he walked away and entered the broadcast booth.
Now he's back, lured by a fat contract, the opportunity to work with Jameis Winston and the chance to surround himself with a familiar group of assistants.
Many national pundits are anticipating a disaster this fall. Some have forecast the Bucs to pick first in the 2020 draft. Few are predicting Tampa Bay to register a winning season.
That's catnip for Arians, who brims with confidence even in the darkest of times. He can't wait for Friday's opening practice of training camp.
"I love it when nobody says you have a chance to win," he crowed in 2014, after the Cardinals beat the Rams.
Should the Bucs silence their skeptics and end the NFC's longest playoff drought, Arians will surely be in the conversation for another Coach of the Year award. If he wins it for the third time, he would be in select company with Bill Belichick and Chuck Knox.
Don Shula, sitting atop the chart for most NFL coaching victories, is the only 4-time winner of the honor. That's the kind of heady company Arians keeps.
Ultimate Task
After working with Peyton Manning, Ben Roethlisberger, Andrew Luck and Carson Palmer, the quarterback whisperer is now conversing with Winston. His message is a simple one: play smart football and we'll shock the football world.
Byron Leftwich might be calling plays and Clyde Christensen has the title of position coach, but let's not kid ourselves … Winston's course is going to be charted by Bruce Arians. The Glazers didn't hire him to delegate authority — they hired him to resurrect Winston's profile as the face of the franchise.
Winston is about to be poked and prodded like never before. There will be times Arians will seem overbearing … but then there's a bear hug to show he cares.
"He has such a unique gift for MF-ing them during the week and getting him to play hard for him on Sunday," Arizona GM Steve Keim told NFL Network. "He works them and works them and breaks them down, and yet the players genuinely love him. It's an art form. I've never seen anything like it."
When Arians arrived in the desert, the Cardinals boasted some solid defensive talent, led by Patrick Peterson, Calais Campbell, Darnell Dockett and Daryl Washington. What needed fixing was an offense that ranked last in yards and 31st in points.
A 4-0 start in 2012 gave way to a 9-game losing streak in which Arizona averaged 10.6 points. That's what cost Ken Whisenhunt his job.
A quarterback quartet of John Skelton, Kevin Kolb, Ryan Lindley and Brian Hoyer wasn't going to cut it for Arians, so Keim worked a deal with Oakland to acquire Palmer.
"I'm here to introduce our starting quarterback and put it to bed," Arians said three months after he was hired.
But that's not all he said. Arians also laid out a blueprint for Cardinal fans, the same optimistic vision he shares with long-suffering Buc supporters.
"We are not in a rebuilding stage," he said. "This is too good of a football team for a youth movement. We're in it to win and win now."
Judgment Day begins.