Arians Reviews Carlton Davis
July 27th, 2019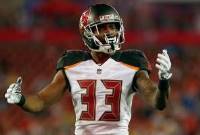 Unless the Bucs make the playoffs, second-year cornerback Carlton Davis will be 22 years old all season.
Bruce Arians thinks he's primed to make that sophomore leap.
Davis has been among the very active core of young cornerbacks through two training camp practices, albeit underwater with players not putting on pads until tomorrow.
Arians answered a question today about what he's seeing from Davis.
"A lot of competition. He is competin' and really refining his bump-and-run skills,' Arians said. "He's getting his hands off players at the right time. You know, all three of those [cornerbacks] are so long. It's for receivers to get away from them. And they learn proper technique and they all got speed. So he's getting better and better."
Joe presumes Arians' three long corners he referred to are rookies Jamel Dean and Sean Murphy-Bunting, along with Davis.
This is all great to hear, but the real football hasn't started yet with players in pads. That begins tomorrow and Arians promised real hitting will come later in the week.
It's a wide open competition at cornerback. That can only be a positive thing.