"A Lot More Comfortable. You Know, I Just Feel Like Myself"
July 28th, 2019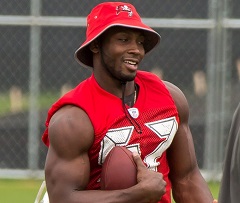 Noah Spence was very clear after practice today at One Buc Palace. "I didn't really like what happened last year."
What happened is Spence was stuck on the bench. Former Bucs defensive line coach Brentson Buckner didn't believe in him, and defensive coordinators Mike Smith and Mark Duffner had no problem keeping Spence invisible.
He couldn't get on the field. But here he is for his fourth Bucs season trying to shake the draft-bust label that fits.
Spence talked to WDAE radio after the Saturday's practice and admitted he's a new man in 2019.
"A lot more comfortable. You know, I just feel like myself. I feel like I'm playing like I'm supposed to," Spence said.
The new defense suits him, he says, and he has no problem with the linebacker label now attached to him.
"Some things happened last year … I didn't really like what happened last year. But it's ok. I mean, I love the game. I'm here playing, working as hard as I can to be the best I can be. That's all it is," Spence said.
The pads come on tomorrow and the real stuff begins. Spence, however, has shined in past summers before sort of disappearing.
Bucco Bruce Arians has been gushing over Spence but says he wants to see him play the run. Teammates have been raving about Spence, as well, (more on that later) but reality will soon set in. What that reality is will come down to what Spence can deliver through the first three preseason games.