Different Injury Identified For Justin Evans
June 5th, 2019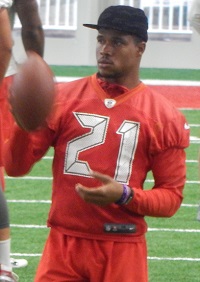 Some scary clarity today from head coach Bucco Bruce Arians on the injury (injuries?) to third-year safety Justin Evans, the guy selected before a flurry of standout running backs in the 2017 NFL Draft.
Evans landed on injured reserve last year after a toe injury lingered and lingered.
Then he was sidelined all spring, presumably for the toe. But speaking on WDAE-AM 620 this morning, Arians was clear that the boot being worn this week on Evans' left foot is part of the recovery process for a procedure he had on his heel, not the toe.
So does Evans have two screwed up feet? Joe is not sure.
But the uplifting news was Arians saying after practice today that every player is on track to be available in training camp except for Jason Pierre-Paul. Arians called JPP a "fingers-crossed" approach.