Interesting Takes From Jets On Bowles' Defense
June 17th, 2019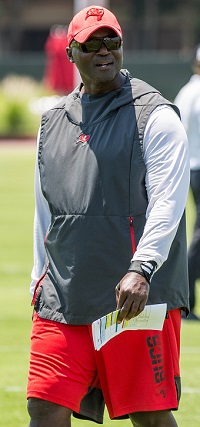 File this into the back of your head as you watch the Bucs defense this season.
One of the more successful Jets players under Todd Bowles last season explained that Bowles wasn't a very aggressive defensive chieftain.
That's noteworthy considering how Bowles' reputation is for lots of blitzes and attack mentality.
Defensive end Henry Anderson was a newcomer to the 2018 Jets and notched seven sacks before landing a fat contract extension. He told NJ.com that new Jets blitz-happy defensive coordinator Gregg Williams is more attack-minded than Bowles.
"It's a lot different than what we were doing last year," Anderson said of Williams' scheme. "It's just a lot more aggressive, attacking front. I know as a defensive line, some of the guys who were here last year, we're kind of having to get rid of some of the habits that we developed in that old scheme. Just getting weight going more forward, attacking, penetrating. It's definitely a fun defense to play in."
Keep in mind that came from a guy who had his best season in Bowles' alleged "more laid back" approach for the Jets D-line. He painted the Bowles way as more read-and-react.
"Footwork is one of the big things," Anderson said of the new technique habits he must develop in Williams' defense. "Our stance is a little bit different, because last year we were kind of reading the offense — as opposed to now we're just kind of going and not really reading as much on what the offensive line is doing."
Joe read these comments weeks ago and followed up by listening to other Jets interviews that echoed the same sentiment.
Yes, Bowles was the Jets head coach, not the d-coordinator of their near-Bucs-level awful defense last year. But Joe never hears anyone tied to the Jets referring to coordinator Kacy Rodgers, who was fired by the Jets along with Bowles after last season. Rodgers is now the D-line coach under Bowles in Tampa. So Joe would think the exact same D-line approach will be taken.
Bowles' defenses have a long track record of being attacking, but it might not be the hair-on-fire, let-the-dogs out style some think it is.