Extreme Job Security For Jason Licht?
June 13th, 2019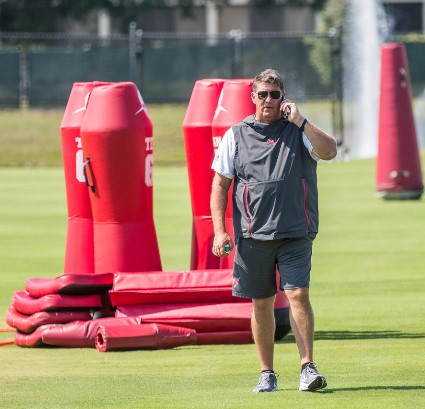 Out of seemingly nowhere, and coming off a playoff berth, the Houston Texans fired general manager Brian Gaine late last week and Hall of Fame general manager Bill Polian smells a trend.
Polian had great things to say about Gaine, but he likened his ousting a bit to that of recently-fired Jets GM Mike Maccagnan.
"Both of these jobs were essentially personnel director jobs, the head coach controlled the process, controlled the roster, controlled who came and went, and had a loud voice in player acquisition. So they're not typical in that regard," Polian told his SiriusXM NFL Radio audience.
The former Bills, Panthers and Colts general manager, Polian said he's no fan of GMs who lack any kind of significant power but those structures exist in the NFL.
Consider that Gaine jumped from being a very young Jets scout directly to the role of Cowboys director of pro scouting under Bill Parcells and Jerry Jones back in 2005. After that gig, he built a solid resume that included years as player personnel director in Houston while current head coach Bill O'Brien was there. Gaine was only in the GM role for 17 months and had three years remaining on his contract.
This all got Joe thinking about Bucs general manager Jason Licht.
One would think Licht's job security is flimsy. There are no reports that he has a Bucs contract for 2020, and his won-loss record over five years is horrible, plus the Bucs just came off a 5-11 season staring at salary cap issues. But Joe has to think Licht's job security is pretty good.
Look at what Polian said about GMs who are glorified personnel directors. Licht would fit that mold now and he's super tight with Bruce Arians, who absolutely is in love with the Bucs' 2019 draft picks. Heck, Licht got Arians the job.
But now it's obvious Arians has ultimate power and is being served by Licht, who doesn't have the same strong hand he had when Dirk Koetter was here.
Unless Arians somehow spooks Team Glazer with his coaching or the team performance this season, Joe totally expects Licht back for a seventh season in 2020. Why would Arians potentially make Licht a fall guy if he trusts him and has gotten whatever he wanted this offseason?