"Even Though He Always With The Offense"
June 7th, 2019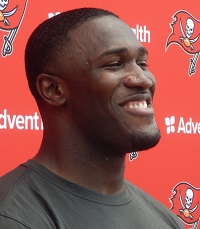 Bucs rookie savior linebacker Devin White put on an impressive display on NFL Network yesterday.
Man, White is awfully smooth for the cameras, lightning fast and aggressive. You can soak it all in via the NFL Network link here.
Overall, he was brimming with gratitude, sharing that he's thankful that Lavonte David is a mentor rather than a jealous veteran concerned the young guy arrived to take his job.
White also says he's thankful for the coaches giving him their personal extra touch in his development. That includes Bruce Arians, White said, "even though he always with the offense." Joe found that impression from the rookie very interesting. With such a giant coaching staff, it's obvious to a rookie that the head coach is all over the offensive side of the football.
White added that he thanks coaches every day and wants to make them grateful they drafted him at No. 5 overall.
On leadership: "I just wake up and that's what I do," said White, noting greatness can't be defined on paper.
White definitely is wining the offseason so far.