Embarrassing Ranking For Jameis
June 24th, 2019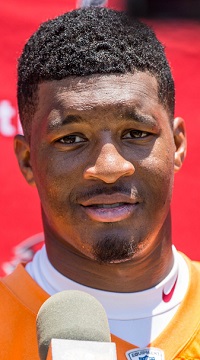 An analyst and ex-Buccaneer that Joe respects a great deal, a guy who has been pro-Jameis Winston for years, now sees America's Quarterback as a true bottom-tier QB with a chance to turn things around.
Joe's talking about Chris Simms, the former Bucs QB who gave his spleen in the line of duty at the Stadium on Dale Mabry Highway.
Simms is a fantastic analyst now for NBC Sports and his spring/summer quarterback detailed ranking exercise puts Jameis as the 27th best NFL quarterback last week.
Joe has shared that Simms still sees all the upside in Jameis. Twice this offseason Joe has had private chats with Simms about Jameis and he's been consistent in his assessment. But now comparing Jameis to the rest of the league, well, the Bucs' face of the franchise came up wedged between Andy Dalton (26) and Case Keenum (28).
Joe wonders what Team Glazer thinks when they read a pro-Bucs analyst like Simms, a guy who has long been in Jameis' corner, rate their QB near the league basement.
First, Joe would rank Jameis near the middle of the pack of NFL starters, maybe 17th, but certainly not anywhere near 27th. Second, Team Glazer lives in the now and knows very well that Jameis' team of four QB coaches with well over 100 years of experience have the skills to lead Jameis to the on-field consistency he's lacked.
But what will "the now" look like for Team Glazer in January? If Jameis' play is status quo, that might lead the guys at the top to desire a new course for the pirate ship.