Bruce Arians Says He's "Melting"
June 13th, 2019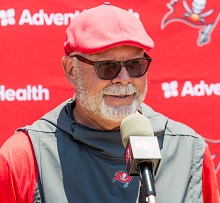 A cynic might say head coach Bucco Bruce Arians is going soft.
He's given up playcalling for the first time in his career and he's got what might be the biggest coaching staff in NFL history, primarily old friends who he trusts implicitly to manage their roles.
Sure, Arians is in full fat-cat mode, coasting and waiting for his 67th birthday this fall, the cynics would say.
They would be wrong. Arians challenged himself to lose 30 pounds once he got the Bucs job, and now it appears the number is up to 45.
Speaking on ESPN in early June, Arians said inhaling seafood, extreme temperatures, and a capable staff is making his life easy and healthy.
"I finally lost 25 pounds and I've got 20 more to go," Arians said. "I can't say enough about [my] staff. I get bored sometimes. Just because I don't have anything to do. [I'm eating a lot of fish] and melting. This 100 degrees is a little bit difference than that 100 degrees."
As listeners to Arians on the recent Ira Kaufman Podcast heard, Arians said anyone who doubts his long-term commitment would be mistaken. Arians said the only potential way he's done coaching after two seasons is if the Bucs win a Super Bowl.
Joe's glad Arians seems completely committed to the Bucs and his health, which is what drove him to retire after the 2017 season.
---
What did Derrick Brooks think of spring practices? Lots to dive into on this edition of TAMPA TWO, presented by Caldeco Air Conditioning & Heating!! It's another dynamic production from The Identity Tampa Bay and JoeBucsFan.com.