"Staredown"
May 14th, 2019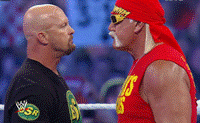 It's like the sheriff and the local cold-blooded criminal meeting in the dusty road just outside the saloon in the old west, two gunslingers ready to draw.
That's essentially what the creator, curator and overall guru of Pro Football Talk, the great Mike Florio, said of high stakes game of chicken being played between Bucs AC/DC-loving general manager Jason Licht and Browns big shot John Dorsey.
If you believe speculation from a Browns beat guy, the Browns want Bucs stud defensive tackle Gerald McCoy. But what Dorsey doesn't want is GMC's bloated $13 million salary.
Nothing suggests the Bucs want to keep GMC, at least not at his current salary. Dorsey, of course, knows this and also knows as a result, he has Licht over a barrel if Licht decides to trade GMC.
Also the Bucs have to shed salary because they are in salary cap hell and currently don't have enough bread to sign their full rookie class.
"The Browns are interested in him," Florio said yesterday about GMC on his weekday morning show "PFT Live," seen and heard on NBC Sports Network. It's "a staredown between two franchises."
The problem, as Joe pointed out, is Dorsey doesn't want to pay $13 million to GMC this year. So for a trade to work, Florio hinted, a redo of GMC's contract would have to be done. GMC allegedly wants guaranteed cash. Would he take less cash in a trade for two years of guaranteed money?
Those are among the many things Licht would have to hammer out with Dorsey and GMC's camp.
Otherwise, it appears Dorsey and the Browns are ready to pounce the moment Licht tosses GMC out on Martin Luther King, Jr. Blvd.