Ronde Says He'll Enjoy "The Majesty About It"
May 8th, 2019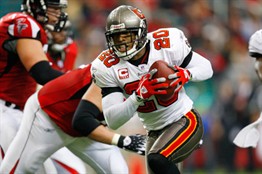 Yesterday's announcement of Ronde Barber entering the Buccaneers Ring of Honor had the iconic Bucs cornerback thinking and talking about the award.
Joining his twin brother Tiki on CBS Sports Radio yesterday, Ronde Barber said he's been asked over and over through the years about when he would get in the Ring.
Barber laughed about it and said he would consistently tell people to take a deep breath and realize lots of guys were worthy of getting in before him. Now, the time is right, Barber said. And after being there for so many Ring of Honor ceremonies, including calling the Mike Alstott Ring of Honor game for FOX, Barber said he enjoys "the majesty about it" and will treasure the distinction and it will be a special feeling to be on the stadium forever.
Barber said he's already enjoying the stroll down memory lane after hearing from so many people via text since the announcement. He went on to talk about his first touchdown in 1998, a blocked punt recovery.
What a great moment it will be when Barber gets in.