Mike Evans Talks Playoffs
May 20th, 2019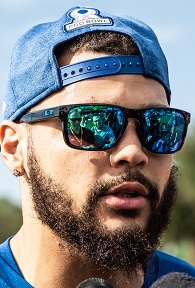 The best receiver in Bucs history was raising — and donating — $40,000 Saturday to help needy kids get scholarships to Texas A&M University.
Mike Evans also was talking Bucs to promote the event.
He was down at his college stomping grounds of College Station, Texas, hosting a bowling event that supports his foundation, which is devoted to helping children.
What does 2019 hold for the Bucs under a new head coach? Evans was asked by TexAgs Radio.
"The guys have responded really well to the new coaching staff [in Tampa]," Evans said. "I really like this offense a lot. I just think it's going to be our best year.

"If we stay healthy, I think we're a playoff contender. … I just pray that we stay healthy. And you know, everybody's already bought in, so we just need a good training camp and a good season and I think we'll do well."
Playoffs? Hey, Joe loves the optimism. Every Buccaneer should think that way.
Evans noted Kwon Alexander was a significant loss, and Evans emphasized a few times how much he likes the Bruce Arians' offense. Joe has a hunch that means Evans will see more deep shots coming his way.
On defense, Evans says he likes that Todd Bowles is high quality defensive coordinator who will have the "pick of the litter" among all the new draft picks on defense and the additional talent added.
As for bowling, well, Evans says he's sort a typical Joe-bag-a-donuts on the lanes.
"I'm not very good at bowling, but when I get a couple beers in me, and I get in the zone, I become a decent bowler," Evans said.