Kerwynn Williams "Found His Niche;" What Does it Mean?
May 10th, 2019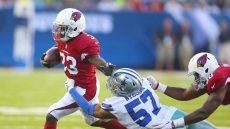 By ZACHARY SEIFTER
JoeBucsFan.com intern
Adam Humphries was a safe, but certainly not sexy, punt returner. Desean Jackson usually refused to play special teams.
Kaelin Clay? Ryan Smith? Jacquizz Rodgers? It has been a revolving door of failure for the Bucs in their search of a dynamic kick returner.
Enter Kerwynn Williams.
The Bucs' newest running back played for Bruce Arians and the Cardinals from 2014-2017 and was picked up earlier this week. He has experience as a returner and previously earned the trust of Arians.
For a while, Williams bounced on and off the Cardinals roster. It was his work on his return skills that allowed him to finally stick around.
Arians touched on this in an interview with Arizona reporters before a game against the Redskins in December 2017.
"That's his grit. He got cut a number of times," Arians said. "He kept getting a little bit bigger, a little bit stronger, really worked on his hands. That was a problem early on in his career. Really worked on his hands, found his niche in kick returns. 'The more you can do.' He bought in to 'the more you can do.'"
Williams improved significantly as a punt returner too. In that same interview, Arians said "he couldn't catch punts two years ago to save his life, but he catches them really good now."
But Williams finished the 2017 season ranked 29th in both yards per punt return (6.5) and kick return (20.4) — among players with 10 attempts or more in each category.
Ironically, in 2017, Rodgers ranked 16th with the Bucs and ex-Buc Bobby Rainey was second in the NFL for the Ravens.
Williams was unemployed through the 2018 regular season after the Chiefs cut him, but showcasing those improved return skills Arians referenced would really give Williams an edge over the other Bucs running backs. With it being unknown how many running backs will be kept on the final roster, it's important to stand out on special teams.
Williams could finally be the returner the Bucs have been yearning for.
But only if he finds his niche again.
In the spirit of Kramerica Industries, JoeBucsFan.com has a college intern for a few months. It's a true rarity. In addition to soaking up wisdom from The Sage of Tampa Bay sports, Zachary Seifter has a pile of Bucs knowledge himself and you'll see some of his work here occasionally.