Jr. Bucs Hosted At One Buc For Field Day
May 20th, 2019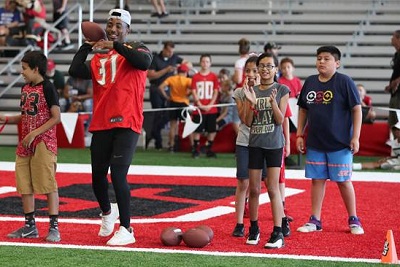 BY ZACHARY SEIFTER
JoeBucsFan.com intern
The Bucs were back on the fields of One Buc Place on Friday. But it wasn't for practice.
Students from Hillsborough and Pinellas County schools joined players and team officials for a field day as part of the Jr. Bucs Program.
Jr. Bucs uses football activities and player videos from the Buccaneers for physical exercise curriculum in the Tampa Bay area. Over 600 students were invited to this field day. Targeted were 600 identified as being the most improved students in the program, which Team Glazer reported reached about 200,000 students of all ages in its first school year.
They participated in many diverse football activities, like throwing footballs into buckets for accuracy, or catching passes thrown by players such as Jordan Whitehead, Vita Vea and Caleb Benenoch.
And Whitehead was particularly excited to be out there with the kids.
"It's everything!" Whitehead exclaimed when asked what being at this event meant to him.

"You know, when you're a kid, like I said when I was a kid, coming to events like this, you know, getting to meet NFL players, it's your dream. Like, you want to meet NFL players, so, you want to be an NFL player one day, so this will make a kid's day."
And making the kids' days they did. It looked like everyone was sent home happy from their day with the Bucs.