Gerald McCoy: "Don't You Ever Question Me"
May 6th, 2019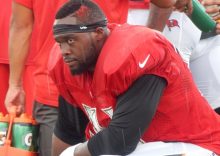 Something got under Gerald McCoy's skin.
Entering his 10th NFL season, McCoy is in a very bizarre spot. He is healthy and he can still play, yet the Bucs intentionally are acting publicly like they want nothing to do with him even though he's still on the roster.
Team Glazer, apparently, has no issue with this ongoing perception game the Bucs brass is playing with a guy ownership chose to adorn on the stadium facade for several years. Perhaps there's a well-thought-out reason for it all? Nah, Joe highly doubts that.
McCoy has been rather quiet lately, sharing training photos on social media and staying away from voluntary work at One Buc Palace. But McCoy got loud yesterday on Instagram.
Zac Blobner of WDAE-AM 620 caught a bitter and sweaty McCoy via the Twitter video below.
Joe's not sure what to make of all this. The unassigned outrage and chest-pounding by McCoy feels like a very 9th-grade move.
The original rant from Gerald McCoy's Instagram… for those who heard the audio on @RonnieNTL & @TKras and wanted to hear it again #Bucs

🤷🏻‍♂️ Mans working hard, respect ✊🏼 pic.twitter.com/FGMddSLPDY

— Zac Blobner (@ZacOnTheMic) May 6, 2019
McCoy has said previously that he has interest in acting after his football career. So perhaps he's playing a role here. Or he's really annoyed and can't keep it quiet any longer.