Gerald McCoy & "The Perfect Defense For Him?"
May 6th, 2019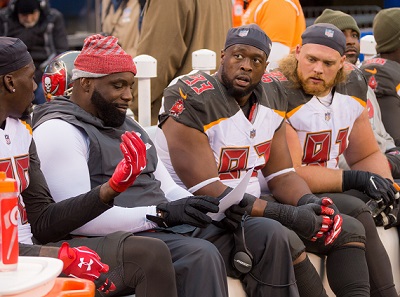 By ZACHARY SEIFTER
JoeBucsFan.com intern
After Gerald McCoy absolutely blew up Lions guard and first-round draft pick Frank Ragnow on a run play in the red zone last year, Bucco Bruce Arians had a message for the nation.
"What a heck of a player; he's one of the best D-lineman in the league. And [McCoy] is in the perfect defense for him, the penetrating 3-technique," Arians told a CBS audience during the Bucs-Lions preseason broadcast.
Yes, the Gerald McCoy mystery continues to trudge on more than a week after the draft. Whether or not he'll be on the roster come September is still unknown.
What really has many baffled is the way the Bucs have handled the whole situation. Jason Licht, Bruce Arians and the rest of the coaching staff have been extremely tight-lipped or non-committal on McCoy.
The question is, why?
Many speculate that it has to do with his $13 million salary. The Bucs still have to sign their draft class and could use McCoy's salary to do so.
But what if it has nothing to do with his salary? There are other ways to free up the necessary cap space to keep McCoy and sign the rookies.
The real question is what if this coaching staff just doesn't think he's a good fit?
Arians' comments above came a bit before the beginning of the end for former defensive coordinator Mike Smith, who drove this team to new heights in terms of being the worst defense man has ever laid eyes on. Yet Arians believed McCoy was in the perfect defense for his skill set.
With it known the Bucs are switching to a 3-4 scheme this upcoming season, does Arians truly believe McCoy can make the switch and be effective as a full-time player?
McCoy made it clear in past years that he doesn't like being used as a 3-4 defensive end. With Vita Vea clogging up the middle at nose tackle, it's more likely than not that McCoy would be at defensive end for a chunk of the snaps in 2019.
Todd Bowles has said his defense is sculpted by putting players in positions to do what they do best. Putting McCoy at defensive end would go against that philosophy if you believe what Arians said. (Yeah, Arians said this spring that he has a 3-technique in his defense, but it's not quite the same as what McCoy is used to.)
So while McCoy's Bucs future is unclear, it's pretty clear this defense might not be for him.
In the spirit of Kramerica Industries, JoeBucsFan.com has a college intern for a few months. It's a true rarity. In addition to soaking up wisdom from The Sage of Tampa Bay sports, Zachary Seifter has a pile of Bucs knowledge himself and you'll see some of his work here occasionally.