Crash Course
May 20th, 2019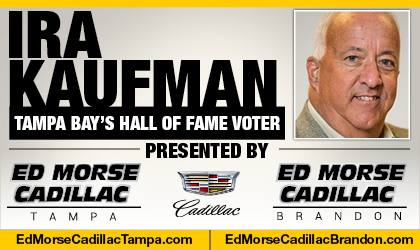 BY IRA KAUFMAN
Todd Bowles deserves a bigger toolbox.
When he accepted an invitation to become Tampa Bay's new defensive coordinator, Bowles began examining the weapons at his disposal.
He had every reason to believe Jason Pierre-Paul would return to anchor his pass rush. There was also a realistic chance that Kendell Beckwith, who enjoyed an outstanding rookie season in 2017, would return from a car crash that fractured his ankle and forced him to miss all of last year.
Instead, Beckwith's NFL career is likely over and JPP's fractured neck vertebrae will keep him out until at least November … best-case scenario.
Two automobile mishaps, almost a year apart, have jeopardized the future of two key players and made the hardening of this soft defense far more challenging.
The ramifications of Pierre-Paul's injury have dominated local headlines, with good reason. Even with JPP enjoying a big first year in Tampa, this pass rush needed a serious upgrade.
How good could the pressure have been if opposing quarterbacks completed 72.5 percent of their throws? The 2018 Bucs were limited to two sacks or less in nine of 16 games.
During a 1-7 stretch that destroyed a promising start, Tampa Bay registered only two takeaways. That's two forced turnovers in half a season.
So yes, Pierre-Paul's absence is significant.
But make no mistake — Beckwith could have been a very useful player in a more aggressive scheme installed by Bowles and his staff of 31 assistants. Buc fans haven't forgotten just how effective Beckwith was after joining the team as a third-round pick out of LSU. He started nine games as a rookie, posting 73 tackles, including 7 tackles for loss, and added a sack and a forced fumble.
In a Thursday night loss against the Patriots, Beckwith was all over the field before a national TV audience, turning in 14 stops against the eventual AFC champions.
He played outside, he played inside, and he never looked out of place, no matter where he lined up.
That promising career was shattered on April 12, 2018, when Beckwith's Camaro, driven by a former LSU teammate, veered off the road and crashed into a fence.
Beckwith needed surgery and he never regained enough mobility and strength in his ankle to return last season. Now, he's been placed on the Reserve/Non-Football Injury List and he has probably made his final tackle.
"I'm continuing to work and get it as strong as I can," Beckwith said in the middle of last season. "I'm gonna roll. I'm not gonna let that hold me back."
But a widely anticipated comeback wasn't to be.
Major Adjustment
Beckwith could have been a nice piece in the Bowles arsenal. He could have lined up inside next to rookie LSU linebacker Devin White when the Bucs were in a 3-4 base, keeping Lavonte David on his accustomed right side.
Now the plan is to move David toward the middle of the field, a change which will require a major adjustment.
Yes, the Bucs have been dealt quite a blow by the rules of the road. A pair of one-car accidents has robbed them of two major components in a defense that could ill afford critical setbacks.
With Pierre-Paul and Beckwith in the mix, Bowles had a fighting chance to make this defense respectable. He would have had options and the flexibility to create favorable matchups.
Without them, the Bucs have to hope they can find some new additions at the end of training camp, when teams shed veterans because of age or salary concerns.
Two players, two car crashes.
Too, too sad.