Nearly Everything Jameis Winston Did At Practice Yesterday
May 29th, 2019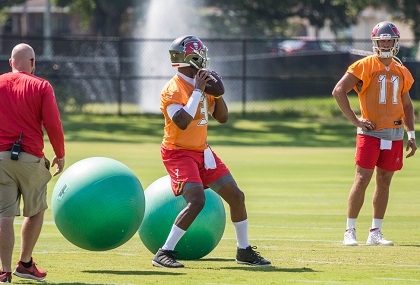 BY ZACHARY SEIFTER
JoeBucsFan.com intern
The Bucs were back on the practice fields yesterday, OTA session No. 7 out of 10 before next week's mandatory minicamp.
Jameis Winston was there getting in his reps. Here's what his day looked like from the practice sidelines:
*The QB's got things started with footwork drills, the first of which is a drop-back drill. The QB's are dropping back a few steps before delivering a short throw to a coach.
*More footwork drills follow, this one with QB's maneuvering through bags before delivering a throw. Jameis hits one of the bags his first time up but follows it with flawless transitions from bag to bag his second try. Quarterbacks coach Clyde Christensen was much more pleased with Winston his second time yelling "There it is!"
*Next up is the spin-around drill used last week. The QB's have their backs to the coaches and when the whistle blows, they spin around and deliver a throw. Jameis doesn't miss any as he hits coaches all over the field with dimes. Peyton Barber is out there catching balls.
*The coaches bring out giant exercise balls in a drill not seen before by media in these OTA sessions. Coaches throw and roll the exercise balls at the quarterbacks as they move around the pocket before delivering throws to coaches down the field. Jameis throws two passes each time he's up and he does this drill three times. His second time up, he throws two bullets after escaping the "pass rush" caused by the exercise balls. Clyde Christensen nodded his head in approval yelling "Excellent!" to Jameis after the drill.
*Next up is throwing on the run. Moving right, Jameis looks natural as he hits Peyton Barber in the chest 20 yards downfield. Moving left, Jameis doesn't look nearly as comfortable as his first pass misses Barber badly. He adjusts and completes his last two throws.
*As that drill ends, all of the running backs make their way over to the QB's and Jameis is heard yelling "Let's go, O!" as he gets ready to start handoff drills.
*Jameis only hands the ball off to Andre Ellington and undrafted rookie Bruce Anderson before getting in passes with the running backs. His first 7 passes only go to Ellington and Anderson as well, all being completions on check downs in the flat as well as short crossing routes.
*Jameis finally gets in a completion to Peyton Barber before finishing the drill with 4 more completions to Ellington and Anderson.
*The horn goes off for a 2-minute water break but Jameis takes only 30 seconds for water before getting in some work on play-action screen passes.
*Tight ends and wide receivers join the action now and the first pass from Jameis is a short completion on a comeback screen route to Chris Godwin. With Mike Evans out of practice today, Godwin got a lot of looks and he shined this practice.
Jameis' work during the water break was in anticipation for the first set of routes run by the receivers. He follows with another completion to undrafted rookie DaMarkus Lodge on the same route.
*Jameis hits O.J. Howard over the middle on a seam route. A lot of touch on that pass.
*Receivers and tight ends are now running out routes. Jameis finds new tight end Jordan Leggett twice while also hitting Godwin, Howard and receivers Spencer Schnell and K.J. Brent once a piece.
*Receivers change up the route and now are cutting in on their breaks. Jameis once again finds Godwin, Brent and Schnell for completions. Schnell made a great adjustment on a throw that was behind him, twisting his body to haul it in.
*Deep post routes are next and Jameis finds Godwin, Brent and Lodge for completions before finding Howard on another out route. Jameis then hits Leggett with a dart on an out route, but Leggett can't hold on.
*Receivers are now running comeback routes and Jameis once again hits Godwin before falling victim to another dropped pass, this time by Brent. Jameis follows it with 8 straight completions to finish out drills with the receivers and tight ends.
*7-on-7 work begins with a Jameis completion to running back Dare Ogunbowale in the flat, their only hookup of the day.
*Jameis then finds Godwin for another completion.
*Next pass from Jameis sails over the head of K.J. Brent, followed by another incompletion before Jameis steps out.
*Once back in, Jameis finds tight end Donnie Ernsberger for 30 yards on a seam route, an absolute laser as Ernsberger went up over a linebacker to make the grab.
*Jameis follows with a dangerous short pass to Lodge on a hook route. Lodge had to rip the ball away from a defender to come down with it.
*Jameis hits Justin Watson on a comeback route for a nice gain and then finds Bobo Wilson for a short gain toward the sideline. Jameis steps out once more after this completion.
*He comes back and hits Godwin 10 yards down the field. Godwin made an incredible play, adjusting his body to grab the throw as it was placed behind him to just get it between two defenders.
*On Jameis' last throw of the session, he finds rookie receiver Anthony Johnson for 7 yards. Johnson bobbled the pass but was able to come down with it on a second effort.
*The first 11-on-11 session gets underway with Jameis looking for rookie receiver Scotty Miller on the left side but the pass is slapped away by Vernon Hargreaves. Hargreaves was all over that pass and read it the whole way, allowing him to make the nice defensive play.
*Jameis fires back with a nice completion to Antony Auclair over the middle. Jameis evaded pressure to get out of the pocket and make the play.
*Jameis finds O.J. Howard in the flat for a short gain. Lavonte David was right there for the would-be tackle so it wouldn't have been much of a gain. Jameis steps off and has a quick chat with Howard when the backups begin their reps.
*Overthrow! Jameis looks again for Scotty Miller but is off target to the 5-9 speedster from Bowling Green. He then looks for K.J. Brent on the right sideline, but the ball is dropped.
*The lineman move to a different field as 7-on-7 work starts up again. The first Jameis first pass is a gorgeous touch pass to Auclair for 25 yards. Jameis was able to sail it past the reaching hands of David as it fell right into Auclair's lap for the big completion.
*Jameis then looks for receiver Bryant Mitchell on an in-route. The throw is a bit high and it looks like Mitchell is still able to come down with it, but Hargreaves is there to make a hit and the ball comes loose before Mitchell hits the ground. Incomplete pass.
*Jameis finds Godwin once again, this time on a seam route right up the middle. Winston is able to split the defenders on this play and Godwin is off to the races for what would've possibly been a touchdown in a game.
*Jamies finds Howard again for a short gain in the flat before stepping out for Blaine Gabbert.
*Jameis is striking up conversations on the sideline, talking to Howard again, then finding K.J. Brent and coaching him up, all before talking to Ryan Griffin. A lot of communication between Winston and his offensive weapons today.
*Brent catches a check down as Jameis returns.
*Before the next play, Winston screams "Own it!" pre-snap. He then finds Anthony Johnson on the sideline for 15 yards, but Johnson isn't able to keep his feet in bounds.
*In Winston's final throw of the session he finds tight end Tanner Hudson who goes way up to haul in a pass between two defenders down the field. Jameis throws a dart down the seam.
*The kicking battle starts up once more and Jameis decides to find Scotty Miller and talk to him while walking down the field toward the sideline. While the kickers are going at it, all of the QB's and many of the receivers are gathered in a huddle listening to one of the coaches. Jameis then later finds Leftwich and has a short discussion with him as the kickers are wrapping up.
*Clock management drills begin for a few plays as Jameis has 14 seconds to get the team to the end zone. It is slow-pace and none of the players run so it is more like a walk-through.
*After doing this a couple times, 11-on-11 work begins again, and Jameis runs to the huddle yelling "Ace! Ace! Ace! Ace!"
*Running backs finally get some work in as the first play is a handoff to Peyton Barber to the right side. On the next snap, Jameis fumbles and the play stopped immediately. Jameis then gives the ball to Ronald Jones. No room for either running back to run, but this is underwear, no-blocking football.
*Gabbert completes a screen pass and Jameis sprints toward him after the pass showing him a throwing motion, trying to coach him up on the play.
*Jameis steps back in and tries to find Godwin downfield on a play-action pass but the ball is knocked away by M.J. Stewart. Not a great pass by Jameis, Stewart had a much better chance at bringing in the pass than Godwin did.
*The running backs get involved again with consecutive handoffs to Barber and Jones, both of which go for nice gains. Jones found a wide-open hole on the left side and would've had a large gain in a real game. He continues to impress during these spring and summer practices.
*After a long water break, the final 11-on-11 session of practice gets underway, and Jameis starts it off with a quick pass in the flat to Justin Watson for a small gain.
*Jameis then goes to Scotty Miller for 7 yards on a quick slant before throwing an incompletion intended for Auclair over the middle. Jameis was under heavy pressure and probably would've been sacked in a real game.
*David with a pass breakup as Jameis tries to find Howard on the left sideline. David was all over the field today. Jameis then feels the pressure from the defensive line again and is forced to tuck the ball.
*Jameis finds Auclair this time for a short gain once again. He then follows with a 20-yard strike to Godwin on the left sideline. Godwin making another great catch, having to adjust to a throw behind him once again.
*On Jameis' last play of 11-on-11 work, Jameis is forced to run again as Noah Spence came flying off the edge, forcing Winston out of the pocket. Spence and Nassib would've gotten a sack in a real game.
*Clock management work starts up to close out the practice. 14 seconds are put on the clock and Jameis completes two passes on the right sideline before Santos comes onto the field to attempt a field goal. It is a deep kick, well over 50 yards, and Santos just doesn't have enough power to send it through.
*Jameis steps off to talk to Christensen as Gabbert comes out to execute the same drill.
*Jameis then steps back in after Gabbert's turn, fires a ball out of bounds in the back of the end zone, and that is his last play of practice.
*After practice, Jameis went off with Christensen and rookie QB Nick Fitzgerald to get in a bit more work before heading into the locker room.