Change, Trust & The Running Game
May 3rd, 2019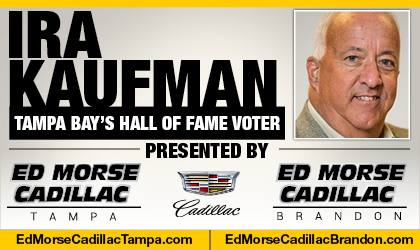 BY IRA KAUFMAN
It's time for a rush to judgment around these parts.
Somehow, some way, the 2019 Tampa Bay Buccaneers have to construct a credible ground game. It's been missing in action since 2015, when an offensive coordinator named Dirk Koetter orchestrated a well-balanced attack that set a franchise record for total offense.
Doug Martin ran wild and Charles Sims excelled in a backup role, easing the burden on rookie quarterback Jameis Winston. The starting offensive line, from left to right, was Donovan Smith, Logan Mankins, Joe Hawley, Ali Marpet and Gosder Cherilus.
That's two rookies (Smith, Marpet), two linemen older than 30 (Mankins, Cherilus) and a journeyman center in Hawley. The 1973 Dolphins, they were not, but they opened holes — and opened Koetter's playbook.
So here we are four years later, with a new head coach, a new offensive coordinator and a run-game coordinator all fixated on restoring balance to an attack that has been out of whack since Koetter was bumped upstairs into a bigger office.
Very few teams run more often than they pass anymore. That's a fact and you can't argue with the way this league is trending. But that hardly means a robust ground game is no longer necessary to thrive.
Championship Formula
From 2014 through 2016, the Saints reeled off three consecutive 7-9 seasons. Drew Brees, a first-ballot Hall of Famer, was under center and healthy, but the defense and run game were subpar.
The addition of Alvin Kamara, a third-round pick out of Tennessee, had an immediate transformative effect on the franchise as he averaged a stunning 6.1 yards per carry and won Offensive Rookie of the Year honors. And without the crazy Minnesota Miracle, those 2017 Saints would have advanced to the NFC title game.
Look at New England's championship run last season.
Tom Brady is arguably the greatest quarterback in league history, but the Pats averaged 38 rushing plays per game in the postseason, averaging 4.3 yards per carry and dominating time of possession.
"I think you do have to run the ball in this league," Byron Leftwich said during his introductory press conference. "You watch these games … late-December football, January football, you've got to have the ability to run the football.

"Guys throw the ball around, but as you guys watched [in the playoffs], they're turning around and handing that ball off because it's extremely important."
If it's all about Winston and this is his football team, developing a better ground game must be a top priority. The numbers are the numbers.
Since Winston came aboard in 2015, the Bucs are 0-11 when attempting 20 or fewer runs. In that same span, they are 16-1 when running at least 30 times.
Fixes, Trust & Blame
Yes, part of that disparity is due to falling behind early and abandoning the run, but the Bucs would have undoubtedly called fewer passes if they had a more efficient ground game. Although Tampa Bay's offensive line was remarkably healthy last fall, Peyton Barber and Ronald Jones were hit in the backfield far too often.
Too many breakdowns, not enough breakouts.
Blame it on poor technique or lack of physicality, but the group up front has to take a major step forward. A solid run game will make Winston's play-action come to life and keep the Buc defense refreshed.
In Arizona, Bruce Arians was blessed with a veteran quarterback in Carson Palmer. Those Cardinals threw the ball all over the field because Arians trusted Palmer to make the right reads and deliver on time.
Winston has to earn that trust.
He's not a rookie, but Winston has much to prove to a new coaching staff and an ambivalent fan base.
"If I'm a GM and I have a top young quarterback," Arians said, "the first thing I'm investing in is the offensive line. Not receivers, not running backs. I want an offensive line that can protect this guy a little bit. And then try to run the football and let him learn to play third down."
Allow me to translate: if you can't run in this league, you can't hide.
Or win.
Ira Kaufman began covering the NFL as a New York Giants beat writer in 1979. He arrived on the Buccaneers beat in 1985, Finally, the corporate leash was removed from his neck when he joined JoeBucsFan.com in July 2016. The award-winning Ira Kaufman Podcast fires twice per week, and Ira's columns appear thrice weekly, except when Ira is on special assignment. Tampa Bay's only Hall of Fame voter also is a popular guest on various national radio and on local TV. He's also co-host of TAMPA TWO at The Identity Tampa Bay, which returned to its regular format in March.