Bruce Arians Talks About Drafting A Kicker, Criticism And Competition
May 9th, 2019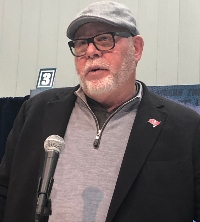 The Buccaneers drafted a kicker, a kicker, early in Round 5 of 2019 NFL Draft.
Bucco Bruce Arians has answers and evaluations.
The new head coach was hit with the Matt Gay question, the new kicker out of the University of Utah.
Why Gay? Arians was asked on SiriusXM NFL Radio recently.
"Well, the distance, the strength of his leg, you know, from 58 in," Arians said of his new weapon. "Cairo [Santos] has been very consistent 40 [yards] in. It'll be a good battle. And I believe in competition breeds success. It'll be a heck of a battle between those two guys. I mean, you get criticized for taking a kicker in the fifth-round until you line up with four seconds left and they make a 55-yarder to win a game. 'Oh, what a great pick.'"
Arians talked about the value of kickers to great teams, singling out Jeff Reed in Pittsburgh, the kicker during Arians' years with the Steelers. Reed was no Pro Bowler, and he had a couple of off seasons. However, he was 16-of-18 on field goals in the playoffs.
Of working with general manager Jason Licht on the Gay selection, Arians said, "We both couldn't wait to get that pick in."
Joe can't wait to watch the kicker competition unfold.