Bruce Arians Talks Sean Bunting, Huge Expectations On Vernon Hargreaves
May 9th, 2019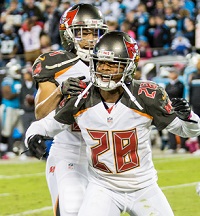 Bucco Bruce Arians has got a lot on his mind when it comes to the Buccaneers' draft and the huge talent injection given to his defensive backs corps.
Have you heard Arians speak since the NFL Draft completed?
Joe has.
Arians hopped on SiriusXM NFL Radio and said he sees the pick that stunned a lot of Bucs fans, second-round cornerback Sean Bunting, is so perfect for Todd Bowles' scheme and his nickel skills made him extremely attractive.
"[Bunting] is a press man-to-man guy with great ball skills and he's also played a lot of nickel, and that's the one thing," Arians said. "I'm hoping to keep Vernon Hargreaves outside and find a young nickel. And I think we found two of them, a safety-type nickel [third-round pick Mike Edwards] and a corner-type nickel."
Arians elaborated on Hargreaves and the pressure he'll have, in addition to being an island corner in a blitzing scheme.
"[Hargreaves] is the old guy in the room, and I put a lot of pressure on the old guy in the room to take the young guys and get them ready. We had a little bit of talk about that with our whole team. If you're an old guy in the room, and you're leading them in the wrong direction, we've got problems. Vernon is that guy in that [defensive backs] room and I expect big things from him."
Leadership, leadership, leadership — from players. Arians had plenty to say about how internal leadership will drive his team.
Man, the Bucs have a lot on Hargreaves' shoulders, for now, in a division that has feasted on the Bucs secondary in recent years.