Vinny Curry Asked For His Release
April 13th, 2019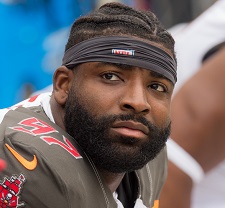 Not everyone was all smiles when Bucco Bruce Arians got the head coaching gig in Tampa.
How could this be?
Well, reasoned and seasoned former Bucs defensive end Vinny Curry took one look at the Arians hire and shook his head. One of the ex-Eagles signed last offseason to bring Super Bowl vibes and winning ways to Tampa Bay knew he was a bad fit, Curry explained on sports radio in New Jersey recently.
Curry said he smelled a 3-4 defense coming to the Bucs and asked for his release. The Bucs obliged in a hurry, and Curry was on the market in early February before re-joining the Eagles at less than half his Bucs salary.
Curry also explained the high ankle sprain that took him down early last season never fully healed even though he played through it. His time on the bench healing were his first missed games since 2013.
Egged on by the ESPN Radio hosts, Curry added that Bucs fans and the Tampa Bay fan base aren't as passionate as what's in Philly because too many people have out-of-town roots are are visiting fans.