"Top-5, For Sure"; Behind The Scenes At One Buc
April 21st, 2019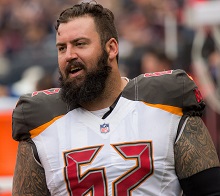 The historically dreadful Buccaneers free agency class of 2014 has one sole survivor.
He's got a Super Bowl ring, a ton of experience and a $2 million salary for 2019. Yes, Joe is talking about the pride of Idaho State, versatile offensive lineman Evan Smith. He played seven games last year before a hip injury landed him on injured reserve.
Before his season was cut short, either Smith couldn't win the right guard job from Caleb Benenoch or coaches just wouldn't let him. Joe's hoping the latter is true; the alternative is unthinkable.
Regardless, Smith is back and grinding behind on the field and in the weight room at One Buc Palace. The official Buccaneers video below shows Smith squatting more weight than anyone else shown. He's asked about his strength and says he's top-5 on the team, for sure. So Joe's going to assume the bad hip is just fine.
Because of the inexperience and big learning curve for many young NFL linemen these days, Joe has heard savvy personnel men talk about how it's a good idea to collect 30-something O-linemen like Smith. There's extreme value in versatile veterans who haven't had persistent and significant knee and back issues because they can get the job done with little practice time.
Smith, 32, seems to be in that category, even if he isn't special.
The video also gives a better glimpse of "Big Jameis." He does look much bigger than in previous springs. Jameis said he played only five pounds lighter last season than he is now, but Joe would bet Jameis is at least 10 pounds heavier than he was last April. Maybe 15.
Interesting implication in the video that second-year running back Shaun Wilson is the fastest player on the offense.
That would be very impressive considering Jameis just talked about how Ronald Jones is showing to be an athletic freak of nature. Joe knows the coaching staff is very high on Wilson's practice film from last year, as well as his limited game film.