The Raiders' Lean At No. 4
April 20th, 2019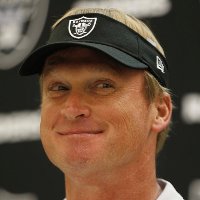 Draft-selection insight is a lot easier to glean when your personnel chief has a very long and public history of explaining and detailing his preferences and selections.
Enter the Oakland Raiders with the No. 4 overall pick next week, one slot before Tampa Bay's. The new Oakland general manager is former year-round NFL Network/NFL.com draft guru Mike Mayock, who arguably was the best and most thorough in the business.
Now he's Chucky's new personnel guru in Oakland. Yeah, Joe understands Chucky calls the shots, but he didn't hire Mayock to be a yes man; he hired Mayock because he liked his evaluations.
So with that in mind, Ali Bhanpuri of NFL.com typed up an insightful piece that studied Mayock's work over years as a public figure draft guru.
The first trend named interested Joe.
1) Watch for a pass rusher at No. 4. The Raiders ranked last in the NFL in sacks per pass attempt last season. Not too surprising, considering they shipped out one of the best pass rushers of the decade before the season started. Fortunately for Oakland, the 2019 class is loaded with premier pass rushers.

Mayock consistently ranked his No. 1 defensive end and defensive tackle among his top overall players in the last six draft classes, with the top-ranked DE averaging at No. 3 overall, vs. No. 7 for DTs. So, we could very well see the Raiders take a defensive lineman at No. 4 on Thursday. And if Mayock and Co. do go D-line with their first pick, don't be surprised if the Raiders take a DE over a DT, as in the past six drafts, Mayock valued top-tier DE prospects nearly twice as much as he did DT prospects.
So would the Raiders dare take a defensive end if Alabama DT Quinnen Williams is sitting there for them at No. 4? That would make a lot of Bucs fans awfully happy.
In that scenario would Bucco Bruce Arians dare to take linebacker Devin White over Williams?