The Bucs And Deandre Baker
April 15th, 2019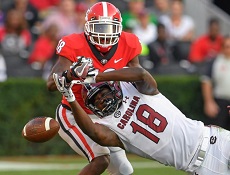 Sadly, one could make a case that the Bucs have a cornerbacks crisis.
Joe still shakes at night when thinking about the Bucs not addressing cornerback in free agency while simultaneously announcing the first cornerback they chose in last year's draft, M.J. Stewart at No. 53 overall, will now move to safety. And Bucco Bruce Arians said at the NFL Owners Meetings that the Bucs still need to identify a nickel cornerback.
Someone pass the vodka!
Yeah, yeah, Carlton Davis. Yeah, yeah, Vernon Hargreaves. They have an awful lot to prove. Another quality cornerback tossed into the mix would be a great move.
Enter the NFL Draft. This year's edition has a healthy crop of corners.
Scoring Deandre Baker in Round 2 would get Joe doing some enthusiastic head-nodding. It's a need whether or not fans want to accept it.
Hall of Fame GM Bill Polian was talking about Baker recently.
"We're talking about a guy here that has really good instincts, good quickness, good physicality. He'll get up there and mix it up. He's got quick feet. He really can close very well and he's got great break-up technique. And you would expect that because he plays for Kirby Smart who had worked for Nick Saban for a long time," Polian said on SiriusXM NFL Radio. "But Kirby is in the Nick Saban, Bill Belichick school and category when it comes to teaching defensive backs. So what you're getting here is the finished product, in all likelihood."
Polian said Baker's 4.5 speed in the 40-yard dash is "borderline" but 5-foot-11 Baker has other traits that are excellent. For Bucs fans wondering, Hargreaves and Davis also ran 4.5 as draft hopefuls.
Will Baker be great? Polian doesn't think so because his speed will hold him back, but Polian does believe Baker will be a very good player out of Round 2.