The Bucs And Connor McGovern
April 12th, 2019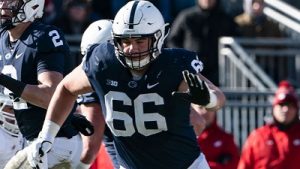 Joe wouldn't bet on center Ryan Jensen being on the Bucs in 2020.
That's just salary cap reality when you look at the Tampa Bay offensive line, as well as Jensen being older than Ali Marpet and Donovan Smith, and how Jensen performed last year.
Combine that with the Bucs' urgent need for a quality starting right guard, and enter Penn State mauler Connor McGovern. He's a rather unique prospect because he excelled at guard and center in college, and he's not undersized at 6-5, 308 pounds. He played close to 320 last season.
McGovern, largely viewed as a second-round pick, seems like such a Jason Licht kind of pick. Penn State? Check. Versatile? Check. Allegedly nasty? Check.
The scouts seem to like that McGovern has real NFL strength. NFL Network draft guru Charles Davis was crowing recently on SiriusXM NFL Radio about McGovern as a "strong, aggressive, beat-you-up-in-a-phone-booth" guy.
Also throw in that Bruce Arians' son Jake was talking on his podcast months ago about how you draft starting guards in Round 2. That's significant to Joe because it seems Jake Arians often parrots his dad's philosophies and thoughts.
Joe would be pleased to see the Bucs draft a guy like McGovern in Round 2. It's a fit for a team that's probably going to win via its offense for at least a year or two.