Reggie Cobb Passes Away At 50
April 22nd, 2019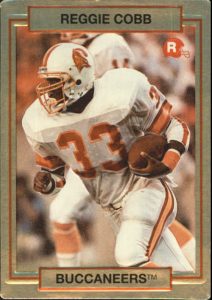 When Sam Wyche took over as head coach of the Bucs in 1992, he had a major plan in place for his offense: hand off to Reggie Cobb.
That season, Wyche (more specifically Vinny Testaverde and Steve DeBerg) put the ball in Cobb's gut 310 times en route to him rushing for 1,171 yards and nine touchdowns.
Cobb was a bright spot in another crappy 5-11 Bucs season.
Cobb, 50, passed away yesterday of what is suspected to be a heart attack.
After his big Bucs season of '92, Cobb had one more year in a Tampa Bay uniform before moving on to the Packers and the first two playoff games of his career. He jumped into scouting after retiring and was in that role with the 49ers when he died.
Joe wishes the Cobb family well.