Interesting Rankings
April 16th, 2019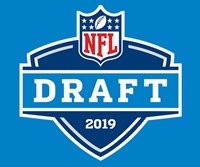 Not since Joel Buchsbaum put out his annual draft guide have #DraftMedia panted over a tome of a draft annual.
And so Dane Brugler of The Athletic, formerly of CBS Sports, unleashed his beast yesterday.
Interesting details.
(This is not a mock draft. This is Brugler ranking the best 100 players regardless of position, using all sorts of information and data from film, from the NFL combine, from analytics, from measurements, you name it. He also has detailed breakdowns of each of the top players listed by position.)
A player many Bucs fans are hot in the pants for, this inside linebacker Devin White of LSU, isn't that high up on Brugler's rankings. Brugler has White as the No. 12 prospect. As far as non-edge rushing linebackers go, Brugler has Devin Bush of Michigan rated No. 10.
Of White, Brugler writes, "Overall, White's tape doesn't show the same level of instincts or discipline as current Bears LB Roquan Smith, but his play speed and relentless nature are off-the-charts, projecting as an NFL starter similar to Jarrad Davis (drafted No. 21 overall to the Detroit Lions in the 2017 NFL Draft)."
Breaking down Bush, Brugler believes he is an outside linebacker on the next level. "Overall, Bush doesn't have ideal take-on skills to thrive inside as a MIKE, but his ability to diagnose, his reaction quickness and his closing speed are special, projecting best as an impact starting WILL in the NFL."
Brugler has four defensive linemen/edge rushers ranked in his top-five: Nick Bosa (No. 1), Quinnen Williams (No. 2), Josh Allen (No. 3) and Ed Oliver (No. 5). Brugler has Alabama offensive tackle Jonah Williams at No. 4.
Seven of Brugler's top-10 ranked players are defensive linemen/edge rushers.
Brugler has but one running back in his top-32, that being Josh Jacobs of Alabama at No. 22.
The highest rated guard is Chris Lindstrom of Boston College at No. 36.
What a combine demonstration will do for you: Brugler lists Mississippi's D.K. Metcalf as his highest ranked wide receiver at No. 27. At No. 28 is Oklahoma's Hollywood Brown.
Brugler's highest-rated corner? That would be Byron Murphy of Washington at No. 20. Brugler's highest-rated safety is a Division I-AA product, Nasir Adderley of Delaware at No. 25.
Brugler's draft breakdown is 221 pages long and can be downloaded here.