Bucs Bestow Draft Honor On Trent Dilfer
April 5th, 2019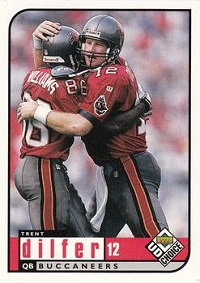 What next, a statue of Vinny Testaverde outside a gate at the Den of Depression?
Man, no wonder Martin Gramatica was making wise cracks this morning on the radio.
Our beloved Buccaneers have chosen to honor a couple of ex-Bucs at the NFL Draft in Nashville, where the honorees, Trent Dilfer and Dexter Jackson (the good one), will call Tampa Bay's second- and third-round picks, respectively, later this month.
It just feels awfully odd for the Bucs to bestow this honor on Dilfer, a guy who turned the stomachs of many Bucs fans in multiple seasons.
Every team will have a former first-round pick call their second-round pick later this month. Joe would to have seen Cadillac Williams or Davin Joseph get the nod over Dilfer. C'mon, someone has to have Hugh Green's email.
This sure smells to Joe like someone was looking to save money because Dilfer is now a high school coach in Tennessee.
Jackson, of course, was the Bucs' Super Bowl MVP.