Red Zone Fix & A Rookie View Of Jameis
April 12th, 2019
BY IRA KAUFMAN
The resurrection of the Tampa Bay Buccaneers has to begin on the defensive end, but improvements are mandatory on the other side of the ball.
Yes, Tampa Bay led the NFL in passing yards last season. Who cares?
The Bucs still managed to land in the NFC South basement once again with a second consecutive 5-11 finish. Jameis Winston and Ryan Fitzpatrick threw the ball all over the field in between the 20s, but Buc fans were singing the blues far too often when the team reached the red zone.
Once the field shrunk, so did Dirk Koetter's offense. The Bucs scored touchdowns on only 36 of their 60 red-zone trips and a dismal ground game was a major culprit.
Enter Bruce Arians and run-game coordinator Harold Goodwin, both determined to restore a once-robust rushing attack that helped Winston flourish during his 2015 rookie season. There's little depth in the backfield behind Peyton Barber, who has impressed Arians with the toughness he displayed on his 2018 tape.
Look for Tampa Bay to draft a running back, preferably one with dependable hands, one year after selecting rookie flop Ronald Jones in the second round.
Rookie View Of Jameis?
The biggest improvement has to come up front, where Donovan Smith, Ali Marpet and Ryan Jensen each boast lucrative contracts. The right side needs a major upgrade because tackle Demar Dotson turns 34 in October and Caleb Benenoch was routinely overwhelmed at guard.
A dynamic ground would ease Winston's burden and help immensely in the red zone.
"If I'm a GM and I have a top young quarterback," Arians said last year, "the first thing I'm investing in is the offensive line. Not receivers, not running backs. I want an offensive line that can protect this guy a little bit. And then try to run the football and let him learn to play third down."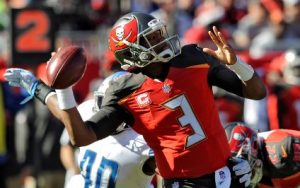 Arians was speaking specifically about rookie quarterbacks, but let's acknowledge that Winston, saddled with a 21-33 record, still has much to prove on the pro level.
The Bucs averaged only 9 rushing touchdowns per season during Koetter's 3-year run and they've gone two years without a 40-yard carry.
When the field constricts, you need toughness as much as you need skill. That's when you impose your will on your opponent with physicality. That's when your badass persona emerges.
We haven't seen enough of that fortitude in Tampa. Not even close.
While Arians was coaching in the desert, the 2015 Cardinals posted 16 rushing TDs, then followed with 20 scores on the ground the next season. He is pining for the kind of balance the 2015 Bucs showed while Koetter was the offensive coordinator. That's the last time opposing defenses respected Winston's play-action, with Tampa Bay boasting the league's No. 5 rushing attack.
It would also be surprising if the Bucs don't draft a guard to compete with Earl Watford for a starting spot. Watford, who signed a one-year deal with the Bucs last month, played 42 games for Arians in Arizona.
"Run blocking is fun, I'm not going to lie," Watford said in 2016. "That's probably the best thing about football, just running the ball."
The 2019 Bucs need to have more fun, and so do their long-suffering fans. It starts with better defense, but it shouldn't end there. This offense needs to be more grounded, particularly in the red zone.
Less interceptions, fewer sacks.
More fun..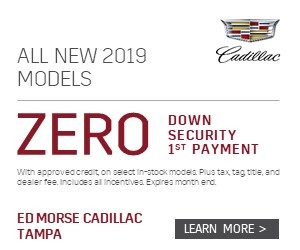 BE THERE WITH IRA!