Time's Up; No Guessing
April 24th, 2019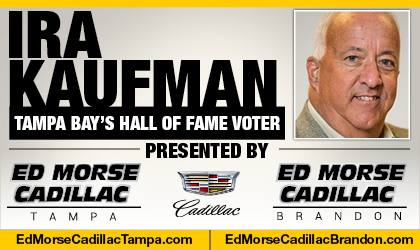 BY IRA KAUFMAN
We're in search of the holy grail, Buccaneer style.
On Tuesday, I asked Bruce Arians how far the Bucs could move back in the first round, pocket extra picks, and still be comfortable with the deal.
"It would have to be some hellacious picks, because there are five guys on the board I love," Arians said. "You'd have to throw the bank and open a vault for me and Jason to probably move back. That's not saying that we wouldn't…just looking at the guys that are there. Really, [it's] six guys that are once-in-a-generation type players. I feel great about this draft."
So there we have it — six guys sit atop Tampa Bay's draft board, six prospects that tower above the rest.
And while it's always dangerous to invest too much trust into pre-draft banter, I believe Arians was being truthful.
So borrowing a famous line from "Butch Cassidy and the Sundance Kid," who are those guys?
My best guess is we're talking about Nick Bosa, Quinnen Williams, Josh Allen, Ed Oliver, Devin White and Devin Bush.
Kyler Murray? Please. Not interested. Knock yourself out, Cardinals and Raiders.
"About three weeks ago, we were totally prepared," Arians says of the Buc draft board. "We've gone over it and over it."
The top six likely has remained unchanged.
"Moneymaker" Strength
You don't have to be a math whiz to realize Arians and Licht are guaranteed to land one of their coveted prospects if the Bucs stick at No.5. And it doesn't sound like Arians is in the mood to trade down very far and run the risk of seeing his top six players taken off his board.
Despite missing most of last season, Bosa is generally considered the best defensive player in this draft, blessed with athleticism and advanced technique skills.
Williams plays inside, but the Outland Trophy winner is no mere space-eater. He's Bill Polian's favorite D-line prospect for a reason.
Allen appears to be a good fit for a 3-4 base defense. He registered 31.5 sacks in 42 games at Kentucky and he has refined cover skills that can benefit Todd Bowles' new scheme.
"His ability to get off the ball and attack the edge of a tackle is as good as there is in this draft," says Kentucky defensive coordinator Brad White. "I think he's vastly improved against the run, but his strength and his moneymaker is he's going to be able to get after the quarterback."
Oliver's claim to fame is his quickness off the ball, a rare first step that potentially makes him very disruptive. Still, he posted only 3 sacks as a junior and 13.5 for his career.
"Overall, Oliver isn't as powerful or polished as the Rams' Aaron Donald was entering the NFL, but he has similar athleticism and should be a disruptive force for the team that drafts him," says NFL Network analyst Daniel Jeremiah.
No Guessing
White and Bush each boast outstanding speed and physicality at linebacker and the Bucs certainly need help at the position with the departure of Kwon Alexander and continued uncertainty about Kendell Beckwith.
White won the Butkus Award and projects as an inside linebacker while Bush, the Big Ten Defensive Player of the Year, will likely play outside.
"I'm a twitchy guy," says Bush, who could excel at the hybrid linebacker-safety position so prevalent in today's NFL. "I can cover, I can blitz, I can play the run. I can do it all."
And although the Bucs crave a better pass rush, White and Bush loom as credible options for Thursday evening.
"You can't draft for need," says Arians. "You draft for need, you get fired. Draft the best player, and if you've got two of them now you've got three of them. Just take the best players available for you. Now, if you've got four players right there together and one of them is a need, that's the home run."
Buc fans are rightfully looking for the long ball in the first round, a player who can make an immediate impact on an overhauled defense.
Tampa Bay's board is set, with a half-dozen prospects at the head of the class.
Study time is over. Start filling in the blanks.
No guessing.
Ira Kaufman began covering the NFL as a New York Giants beat writer in 1979. He arrived on the Buccaneers beat in 1985, and the corporate leash finally was removed from his neck when he joined JoeBucsFan.com in July 2016. The award-winning Ira Kaufman Podcast fires twice per week, and Ira's columns appear thrice weekly, except when Ira is on special assignment. Tampa Bay's only Hall of Fame voter also is a popular guest on various national radio and on local TV.