What About C.J. Anderson?
March 23rd, 2019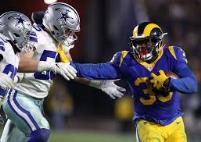 First, Joe has it on superior authority that the Bucs are targeting a running back in this draft, likely a third-down specialist in the middle rounds.
Bucco Bruce Arians is hungry for that kind of back. And he knows his running backs coach would know exactly how to mold him. Todd McNair was that player with the Chiefs in the late 1980s and early 1990s, and Arians was his position coach there.
That written, veteran back C.J. Anderson, 28, remains on the street bitter that the Rams didn't re-sign him, and he can flat out play and catch the football. More important, he would represent an upgrade to Ronald Jones, Shaun Wilson and/or Andre Ellington, the running backs behind Peyton Barber on the Tampa Bay depth chart.
Anderson is a fantastic guy in the community (Google it) and has been a great story on the field. Rising from the undrafted ranks to win a Super Bowl, play in another one, and have a 1,000-yard season, Anderson has been consistently productive.
He could help the Bucs.
Of course, Joe has no knowledge of whether Anderson would be interested in Tampa Bay, but would Jason Licht and Bucco Bruce Arians really rather look fans in the face and tell them Jones is their guy over Anderson?
Frankly, Joe would love to see Anderson signed, Jones traded, and the Bucs score a running back midway through the draft. And if you're going to respond by telling Joe the Bucs wouldn't get anything for Jones, well, then what the heck is he doing on the freakin' roster?