The Josh Rosen Question
March 4th, 2019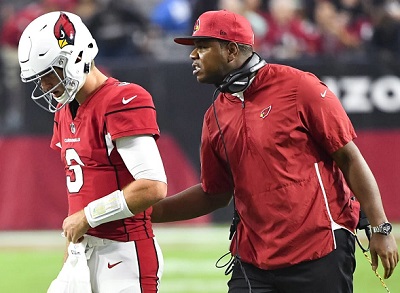 Let Joe get this started by saying Bucco Bruce Arians saying publicly he'd prefer to have America's Quarterback, Jameis Winston, not looking over his shoulder and distracted by the presence of Ryan Fitzpatrick is one big corporate misdirection.
Why? Because Arians could end any alleged potential distraction himself on Day 1 of players arriving on April 1.
Heck, Arians seems to think he can convince malcontent DeSean Jackson to be a team player. So are we to believe Arians couldn't convince Jameis that Fitzpatrick, who turns 37 this season, is simply a No. 2 QB?
It's all a pile of baloney.
This offseason, Jameis won't be publicly humiliated by the NFL — and himself — and he won't be suspended for the first three games of 2019. So Joe's confident Jameis could handle any backup available. Last year was a truly unique situation. If Jameis is that mentally weak where he would have issues with a backup — and Joe doesn't believe Jameis is — then he won't advance much more in his career.
Joe brings this up because rumors are heating up in a huge way that the Arizona Cardinals will trade their 2018 first-round pick, quarterback Josh Rosen, before they draft QB Kyler Murray No. 1 overall next month. It would be a stunner. Rosen, who just turned 22 years old, was the No. 10 overall pick.
The buzz, including from Cardinals-friendly Kurt Warner, is that Rosen might only fetch a third-round pick in a trade. That's largely because the Cardinals have zero leverage.
Should the Bucs at least consider a deal for Rosen? Absolutely, assuming his 2018 playcaller, new Bucs offensive coordinator Bryon Leftwich, thinks Rosen is a superior prospect. Who would know better than Leftwich? And Arians thinks Leftwich is one of the great young offensive minds and QB coaches in the game.
This isn't Joe screaming, 'Trade for Rosen now!" But if there's value, then it has to be considered. For too long, this Bucs organization has resisted considering intelligent moves based on bizarre logic. Rosen is basically due only $2 million per season through 2021.
You got the quarterback whisperer running the Bucs and Jameis in a prove-it kind of year. Maybe Rosen could be had for a third-round pick in 2020 and minor considerations. Joe suspects the Cardinals would love to trade Rosen to a team like the Bucs that would make him a backup rather than where he might thrive quickly and make them look bad.
Again, Joe's not lobbying to trade for Rosen. But if Leftwich really believes the guy is a first-round talent, then how could the Bucs not at least consider a deal.