The Coaching Referendum, Fishy In Foxborough & The Atlanta Crossroads
March 29th, 2019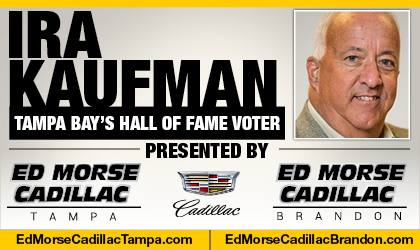 BY IRA KAUFMAN
If Dan Quinn is serious about stockpiling former Buc head coaches, another one just became available.
Greg Schiano was all set to oversee New England's defense when he spiked the playbook in Foxborough, saying he wanted to spend more time with his family. That's a noble thought, but the timing of the announcement looks fishy and it will be awhile before we know the real story.
This seems to be one of the few moments in life when Bill Belichick was caught unprepared.
Not long before Schiano reversed course, Belichick appeared on a SIRIUS radio show, lauding Schiano as a valued addition to his coaching staff. Now Schiano is potentially in line to take his place in Atlanta alongside Raheem Morris and Dirk Koetter.
Can Lovie Smith be far behind?
Quinn's offense hasn't been the same since Kyle Shanahan was hired by John Lynch two years ago to coach the 49ers. With Shanahan calling the plays, the 2016 Falcons led the NFL in scoring and would have beaten the Pats in the Super Bowl if they could have held onto a 28-3 advantage.
Quinn believes that Koetter's second stint with the Falcons might spur Matt Ryan to return to his league MVP form.
"I've coached against Dirk for a long time but haven't had a chance to coach with him," Quinn told reporters at the owners meetings in Phoenix. "Going against him has been challenging. Through the years, that kind of balance, he knows how to attack. That's pretty obvious in the amount of explosive plays that have come out of the offense in Tampa, when he was here in Atlanta, when he was in Jacksonville. There's a lot of things we gained from that."
Koetter will be working closely with Morris, a Quinn confidante who is juggling several titles — assistant head coach/offensive passing game coordinator/wide receivers.
That's a lot of responsibilities for a charismatic guy who can't seem to get a sniff when it comes to head coach vacancies.
All-Or-Nothing Falcons
Koetter has been a successful NFL offensive coordinator everywhere he's worked, including Tampa. When Koetter ran Lovie Smith's offense in 2015, the Bucs ran the football very efficiently, easing the burden on a rookie quarterback named Jameis Winston.
Perhaps Quinn can find a place for Schiano as an assistant to address issues on the NFL's 28th-ranked defense. A 7-9 finish prompted a flurry of staff changes and roster changes as Quinn tries to return the Falcons to prominence.
"Adding Dirk and Mike Mularkey (tight ends coach) to the staff, you can imagine the game management meetings we do twice a week right now," Quinn said. "There's a lot of scars we all had, 'Let's look at this game, let's look at this year.' It's been a lot of fun to go through those experiences with them. We have some new coaching faces, but philosophically we're not changing. The foundation was built. We'll certainly do some tweaks to how we're doing things, but it's important to know the style and attitude that we are playing will stay pretty consistent."
Koetter's offense in Tampa suffered when he was buoyed down with head coach responsibilities. He has plenty of talent to work with in Atlanta, especially if Devonta Freeman returns to form after two injury-plagued seasons.
Bucs Answer Forthcoming
In a way, the 2019 season in Tampa looks like a referendum on Koetter's previous staff. Bruce Arians has surrounded himself with familiar assistants and if there is significant improvement from this 5-11 rut the Bucs are in, we'll know the key missing component has been coaching rather than talent.
"He brings a lot," Quinn said. "Going against Bruce through the years, one thing you can count on is that his team is going to be physical. It was that way in the run game, it was that way in their ability to use speed to take shots downfield. Defensively, Todd Bowles has always had a good feel with the pressure packages he's designed.

That's what I would expect from them — really physical team and an excellent pressure package. Excellent coach, and I'm glad he's back at it."
Ira Kaufman began covering the NFL as a New York Giants beat writer in 1979. He arrived on the Buccaneers beat in 1985, Finally, the corporate leash was removed from his neck when he joined JoeBucsFan.com in July 2016. The award-winning Ira Kaufman Podcast fires twice per week, and Ira's columns appear thrice weekly, except when Ira is on special assignment. Tampa Bay's only Hall of Fame voter also is a popular guest on various national radio and on local TV. He's also co-host of TAMPA TWO at The Identity Tampa Bay, which returned to its regular format in March.