NFL Network: Bucs Sign Deone Bucannon, "The Moneybacker"
March 12th, 2019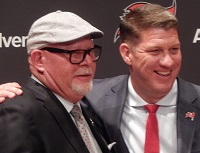 UPDATED 6:07 p.m. – The Buccaneers' linebackers crisis is less worrisome this evening, unless their shiny new free agent signing is going to play safety.
Former first-round draft pick and ex-Cardinals safety/linebacker Deone Bucannon is expected to sign with the Bucs, per NFL Network.
Bucannon 26, was drafted No. 27 overall by Bruce Arians and the Cardinals back in 2014. The following season Bucannon was moved to inside linebacker after Bucs defensive coordinator Todd Bowles bolted the same job in Arizona for the Jets head coaching gig. Bucannon had a good year and started the entire season.
It was downhill from there for Bucannon. Joe read in the New York Post that Bucannon is known for being good at dropping in coverage.
No word yet on how much Team Glazer loot will fall in Bucannon's pocket for a one-year, prove-it deal.
Ian Rapoport cranked out a neat video feature on Bucannon's signing and briefly explained his former "moneybacker" role in Arizona.
The #Bucs are expected to sign safety/LB Deone Bucannon, reuniting him with his former Cardinals coaches and setting him up to hit the market next year. pic.twitter.com/asMFnAyxf1

— Ian Rapoport (@RapSheet) March 12, 2019