Montez Sweat Has A Heart Issue
March 17th, 2019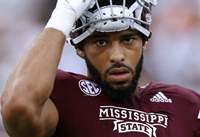 Many Tampa Bay fans remember the tragic story of ex-Bucs defensive end Gaines Adams, who was a disappointment as the No. 4 overall pick in the 2007 NFL Draft and then died less than three years later.
It turned out Adams, who was traded to the Bears for a second-round pick midway through the 2009 season, had an undetected enlarged heart, which led to his fatal heart attack.
Joe brings this up today because Ian Rapoport of NFL Network is reporting beastly Mississippi State edge rusher Montez Sweat, a guy going to the Bucs at No. 5 overall in many mock drafts, has an undisclosed heart condition. Per Rapoport, doctors at the NFC Scouting Combine reviewed his pre-existing condition and determined he was at low-risk and he was cleared to go through all the drills.
Why Rapoport is reporting this now is a mystery. It sure smells like an agent of one of the other top defensive linemen in the draft leaked this info to Rapoport, or it came from a team that wants to draft Sweat and wants to spook other teams keep their paws off him.
Might this freak out Team Glazer enough to order Jason Licht and Bucco Bruce Arians to pass on Sweat?
Team Glazer, obviously, knows all about Adams, as well as former offensive coordinator Jeff Tedford, who nearly died before the start of the 2014 season. And Team Glazer is the same ownership group that demanded Arians go through an intensive physical exam before handing him a check.
Joe wouldn't be surprised if the Bucs get spooked by this news.
Sweat had 22 1/2 sacks over the last two seasons and his 4.41 40-yard dash time was a record for a defensive lineman.