Maxed Out
March 23rd, 2019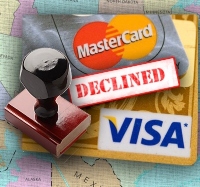 Yes, the Bucs wanted to add quality players in free agency. Who didn't?
The problem for the Bucs was they had to watch from the parking lot while other teams shopped at Saks. Why? Because the team had maxed out Team Glazer's plastic.
But how can such a bad team — sorry folks, a team that loses 29 games in the past three seasons is bad — run up the credit card? Generally, you do this to add/keep good players. What happened?
Jenna Laine of ESPN takes a look.
How did the Bucs go from having the third-most salary-cap space in the league with $74.15 million in 2018 to the least most in the league at $3 million in 2019? The Bucs picked up quarterback Jameis Winston's fifth-year option, taking his cap figure from $7.9 million last season to $20.9 million in 2019. The Bucs extended wide receiver Mike Evans ($20 million cap hit

in 2019), tight end Cameron Brate ($7 million) and offensive guard Ali Marpet ($11.02 million) last offseason.

They also traded last year for defensive end Jason Pierre-Paul ($14.9 million cap hit in 2019) and signed center Ryan Jensen ($10 million) and defensive tackle Beau Allen ($5 million) — although they just restructured him. That's roughly $75 million right there.
And this is why team officials seem to be sending out smoke signals they believe coaching, not personnel, was the problem.
Now Joe, on the record last month in Indianapolis at the combine, point blank asked Bucs AC/DC-loving general manager Jason Licht if the Bucs coaching was that bad. Licht wouldn't disparage the previous coaching staff in any way saying he had too much respect for them.
Sometimes actions speak louder than words. Instead of having a housecleaning, the Bucs have chosen to keep their core players, some who got raises that led Bucs fans to develop acid reflux because some of these players are unpopular.
To be fair, Joe doesn't think any sane, sober fan thought the defensive coaching the past couple of years was remotely competent.
We're all going to find in a few months if it was coaching or the players that has this team in the pickle it currently is in.