Jason Licht Describes "New Man" Jameis, Identifies "The Issue With Him"
March 2nd, 2019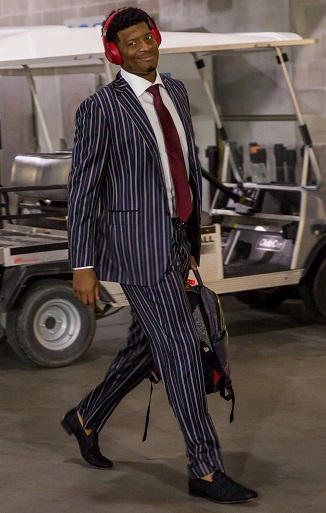 Jason Licht has a message for Bucs fans and keen observers of the NFL.
The film of America's Quarterback, Jameis Winston, will shock you.
These were the general manager's words to a national audience on SiriusXM NFL Radio, a channel Joe inhales like Abe's Place boneless wings and their array of homemade sauces.
First, Licht shared that Jameis is fully rejuvenated before even one practice with the new coaching staff.
"You can tell with Jameis. I've seen him a lot. But he just seems like a new man right now," Licht said. "He's energized. The last coaching staff had a lot of  confidence in him, too, So it's nothing to do with that. It's just having Bruce Arians, two-time coach of the year, come in and say, 'You are the guy and you're going to do well in this system.' You know, it's exciting."
Co-host Bruce Murray followed up and asked Licht directly if Jameis not playing to his talent level consistently frustrates the GM personally.
And that's when Licht explained that the film don't lie. There's hard evidence why the team is so confident in Jameis.
"Yes," Licht replied. "I think Jameis, he's got a lot of confidence in himself. And he doesn't think that there's ever a play that he can't make. And I think that's been the issue with him. He's maturing. You know, he's really matured over the years in terms of his ability on the field, too. And I think that's becoming less and less of an issue. If you watched the second half of this year, he played pretty good. I think people would be shocked if they actually watched the tape of the second half of this year. He's finally coming into his own."
Yes, many fans might be shocked if they re-watched all the 2018 Jameis film starting the with the Giants game going forward. Jameis did a lot of great things but did struggle against the Saints and Ravens. Those fans also might be equally shocked watching Jameis in the prior games. After playing so well against the Falcons in his first start of the season, Jameis looked terrible throwing the football in the next two games.
And that's sort of the point. Everyone can see the greatness in Jameis, and all the needless turnovers and fumbles. Both are obvious.
Jameis simply must find it in himself to be more consistent. That will equal wins and a fat new contract.