Faith, Faith & More Faith
March 15th, 2019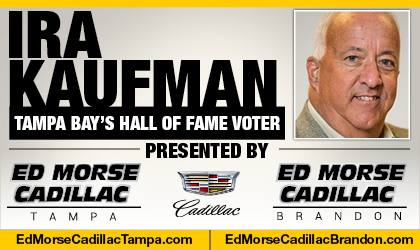 BY IRA KAUFMAN
Coach 'em up, fellas.
That's the overarching theme at One Buc Place a few weeks before players start trickling in to showcase their skills to a new staff.
What else do Buc fans have to generate optimism heading into the 2019 season? They've got the pedigree of Bruce Arians and a group of teachers intent on maximizing the talent on this roster.
The first wave of free agency has crashed, leaving euphoria in Cleveland, excitement in Oakland and yawns in Tampa.
Surely Buc fans aren't rushing out to buy season tickets because of the additions of Deone Bucannon, Breshad Perriman and Bradley Pinion.
No, it's the hope that a new staff can develop young players who are already here. It's the belief that Arians will have this franchise ready to play competitively on the road, where Tampa Bay has gone 1-7 in each of the past two years.
It's the knowledge that Arians made an immediate impact in the desert in 2013, when he inherited a 5-11 Arizona team and promptly went 34-14 in the following three seasons.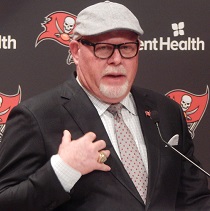 It's the faith that Arians can unlock Jameis Winston's potential in Year 5, erasing the worry lines on the former face of the franchise.
Carson Palmer, who flourished under the tutelage of Arians in Arizona, shares that faith.
"They're going to be great together," Palmer says. "It's probably the best thing that could've happen to Jameis at this point in his career — getting a guy like B.A. to come in and clean up some things technically. And really installing what he does best, and that's push the ball down the field."
The Bucs didn't have enough salary-cap space to make much of a splash in free agency, so Jason Licht had to approach the marketplace more strategically.
Pain In Prudence
Some Tampa Bay fans are distraught about this prudent approach. Have they forgotten this organization's legacy of March madness?
The keys to success for the 2019 Bucs are young players who haven't developed because of injuries, poor coaching or a lack of sufficient talent.
Let's see what this new staff can do with Justin Evans, who appeared lost far too often last fall. Can Noah Spence be resurrected with a new scheme installed by Todd Bowles?
Donovan Smith, who just got paid like a big-time left tackle, needs to play like one every week. Winston needs to repay Arians for all the love by proving he's a winner on the pro level.
In the final year of his rookie contract, Vernon Hargreaves has to be coached up effectively to avoid the 2016 draft being labeled one of the worst hauls in Buc history.
That's a mouthful.
Big Team, Big Job
The Bucs may add a helpful rookie class next month, but the bulk of this potential turnaround must come from the returning players. Arians says this reclamation project pales in comparison to the challenge he faced with the Cardinals.
We'll see.
Despite the departures of DeSean Jackson and Adam Humphries, there's plenty to work with through the air.
"His passing game, his vertical passing game is just different," says Palmer. "It's hard to defend. You don't see it throughout the league. Every team doesn't do what he does. That combined with the way that Jameis can throw the ball down the field with accuracy, I think it's a great tandem."
While Don Shula, Bill Belichick and Bill Walsh never made a tackle or a sack from the sidelines, coaching matters in the NFL – probably more so than any of the other major sports. Look what Sean McVay has done with the Rams and the void Kyle Shanahan's departure created in Atlanta.
Arians has cobbled together a big staff of assistants at One Buc Place, and that's OK. They've got a big job to do.
Ira Kaufman began covering the NFL as a New York Giants beat writer in 1979. He arrived on the Buccaneers beat in 1985, and the corporate leash finally was removed from his neck when he joined JoeBucsFan.com in July 2016. The award-winning Ira Kaufman Podcast fires twice per week, and Ira's columns appear thrice weekly, except when Ira is on special assignment. Tampa Bay's only Hall of Fame voter also is a popular guest on various national radio and on local TV. He's also co-host of TAMPA TWO at The Identity Tampa Bay, which returns to its regular format in March.