Donovan Smith Explains How He Wants To Improve
March 6th, 2019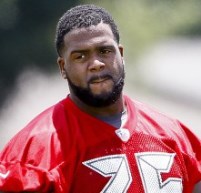 All smiles, of course, Donovan Smith and general manager Jason Licht addressed local media today after Smith signed off on $27 million of guaranteed Team Glazer loot as part of a new three-year contract worth about $13 annually.
Nothing too novel came from the exercise at the One Buc Palace podium, though Smith did say how he'd like to improve.
He called himself a pull-guys-aside kind of leader but his goal is to get more vocal. "Being a bigger voice," Smith said.
Joe found that a bit ironic when Smith soon after answered a question about how the team can improve to be above his "pay grade." Also, Smith said he is striving for more consistency in his game. Joe will drink to that.
Smith had superficial "chit chat" with new head coach Bucco Bruce Arians but nothing more, he said, though he welcomes new position coaches to help him grow. He experienced a loads of coaching turnover at Penn State, and Smith said that's not a bad thing.