Bucs Appear To Be Leaning DT In The Draft
March 20th, 2019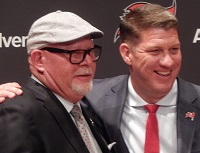 Joe has been very busy the last couple of weeks gathering information swirling inside the walls of One Buc Palace.
Joe has shared some nuggets, as regular readers know, and there are many more to come.
One thing Joe can say with certainty is that head coach Bucco Bruce Arians is extremely high on defensive end Carl Nassib. And he's so big on Nassib that Arians has been saying with certainty and confidence that Nassib is his starter at defensive end opposite Jason Pierre-Paul. And, just like he did on SiriusXM NFL Radio, Arians is quick to shoot down any notion that JPP won't fit in his defense. Joe shared weeks ago that JPP was a target of Arians in Arizona, but he couldn't get him so a trade was made for Chandler Jones.
Joe is confident typing here that Arians is so strong on Nassib, and combined with GM Jason Licht raving about Nassib consistently and passionately all last season on the Buccaneers Radio Network, it's safe to say the Bucs are leaning defensive tackle with the No. 5 overall pick.
Arians already has stated publicly that his first choice at No. 5 is to draft a guy, not to trade down.
Of course, the Bucs should be in line to hit the jackpot with a defensive line prospect — edge or inside — at No. 5 overall. And if two quarterbacks are selected in the first four picks, then it could get very interesting in a hurry. Right now, March 20, would Joe wager on the Bucs taking a defensive tackle? Absolutely.