Valuable But Inexpensive Safety Help
March 9th, 2019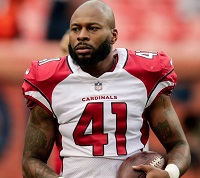 UPDATED 2:08 p.m. – What 34-year-old led his NFL team in tackles last season.
Not only did Antoine Bethea accomplish that, but he was one of only four guys in the NFL with 100 or more solo tackles.
Brent Grimes he is not. And now he's walking the street, dumped by the Cardinals yesterday as part of their massive roster purge.
Bethea is a very is a very interesting potential free agent signing by the Bucs when the dinner bell rings on Wednesday.
With all due respect to Tampa Bay re-signing Isaiah "Run Into The Wall" Johnson this week, the Bucs are in need of depth/competition at safety. And if they choose not to pay one of the giant safety contracts getting tossed around, Bethea could be a nice temporary move to buy another year to assess Justin Evans and Jordan Whitehead, this time with competent coaching (hopefully).
Nobody can argue that Bethea is washed up. He had a career high three sacks last season, so Joe's assuming the guy can blitz. With Bruce Arians' Cardinals, Bethea had a career-high five interceptions in 2017.
A few million plus incentives sounds about right for Bethea. It's the kind of move that could be part of a restructure to bring a manbeast anchor linebacker like C.J. Mosley to Tampa. One could make a similar call on 29-year-old safety Jahleel Addae, who was cut from the Chargers today. The local product from Hillsborough County started every game the last two seasons.
The Bucs simply have to make a couple of major moves on defense this offseason. Todd Bowles may be a strong coordinator, but he's not Superman.