A Real Fix Available At O-Line U
March 6th, 2019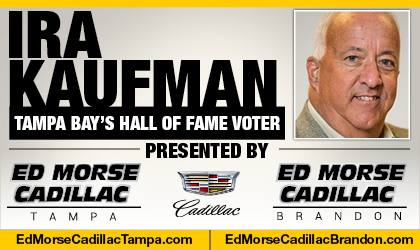 BY IRA KAUFMAN
Now comes the hard part.
The Bucs wrapped up their left tackle position for at least a few years by coming to terms with Donovan Smith, who starts fresh with a new coaching staff as Jameis Winston's blind-side protector.
Jason Licht and his crew looked around at potential replacements for Smith and decided to stick with a known quantity, a player who takes great pride in not missing a snap.
Now it's time to get things right.
Bruce Arians has made no bones about the need for upgrades on this offensive line. He's seen the 2018 tape and found it underwhelming, so it's safe to say right guard and right tackle are positions of priority in the offseason.
If it's all about Winston, doesn't it make sense to focus on the peasants toiling in front of the king?
After watching Caleb Benenoch struggle at right guard all season, the Bucs have decided he is better suited for right tackle. More than a few Buc fans believe Benenoch is better suited for another team. If third-round pick Alex Cappa had shown anything on the practice field as a rookie, he would have displaced Benenoch at some point during Tampa Bay's 1-7 swoon.
He did not.
Right guard remains a gaping hole and the top replacements in free agency are underwhelming … mere stop-gaps. Rodger Saffold will be 31 when training camp begins, Ramon Foster is 33 and Mike Iupati, who turns 32 in May, have history with Arians.
They are not long-term answers for a long-term problem.
And while the draft isn't overflowing with intriguing guard prospects, two tower above the rest. Oklahoma's Cody Ford looks like a stud, but he is likely to be off the board within the first 20 picks and he's not elite enough for the Bucs to take at No.5. He's skilled and nasty, but let's be honest — he's not the second coming of Quenton Nelson.
Ford won't be around in the second round, but Chris Lindstrom could be — and he can help immediately as a plug-and-play lineman. Lindstrom made 49 consecutive starts at Boston College, predominantly at right guard, and he comes from a school that has sent blockers like Damien Woody, Dan Koppen, Tom Nalen and Chris Snee to the NFL ranks.
"Boston College is O-Line U and we take great pride in that," says Lindstrom, whose 4.9 time in the 40 ranked second among all offensive linemen at last week's combine. "There is a standard that those guys before us put forth and we are trying really hard to uphold that after seeing all the success those guys had both in college and in the NFL."
Lindstrom would be a welcome addition between Ryan Jensen and Demar Dotson, an athletic 6-foot-3, 303-pound mauler who can also serve as Tampa Bay's long snapper.
"I'm just really passionate about football," he says. "I really love it. I try to be accountable to my teammates."
The Bucs have invested considerable resources the past few years on bolstering the left side of the line and at center. Smith, Jensen and Ali Marpet are well compensated, so they don't need more cash. They need more help. For three seasons, this group up front has been manhandled in the ground game, ranking 29th, 27th and 24th in rushing yards.
The Bucs missed out on Nelson in the 2018 draft through no fault of their own as he was plucked by the Colts one spot before Licht would have pounced on him.
Like Ford, Lindstrom doesn't rise to the level of a Nelson, but he would represent outstanding value in the second round.
"I was able to watch him (Nelson) a lot as a junior," Lindstrom says. "One, we played Notre Dame. But there's so many cross-over games because were in the ACC and it lined up they played a lot of teams before us. So, I was fortunate to watch him five or six games in college and see what a great player he was and the demeanor he played with.
"And obviously he had such a successful season this year. He's the standard for guard play, especially in college, and he had a great year in the pros. He's definitely someone you would love to shape your
game off of."
Ira Kaufman began covering the NFL as a New York Giants beat writer in 1979. He arrived on the Buccaneers beat in 1985, and the corporate leash finally was removed from his neck when he joined JoeBucsFan.com in July 2016. The award-winning Ira Kaufman Podcast fires twice per week, and Ira's columns appear thrice weekly, except when Ira is on special assignment. Tampa Bay's only Hall of Fame voter also is a popular guest on various national radio and on local TV. He's also co-host of TAMPA TWO at The Identity Tampa Bay, which returns to its regular format in March.